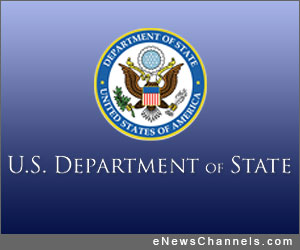 BOSTON, Mass. /eNewsChannels/ — The Office of the Science and Technology Adviser to the Secretary (STAS), in partnership with the Embassy of Ireland, will host an event on Networks of Diasporas in Engineering and Science (NODES), an initiative that seeks to support diaspora knowledge networks in science and engineering fields, on February 14, 2013 in Boston, Massachusetts.
Dr. E. William Colglazier, Science and Technology Adviser to the Secretary, will participate in a panel discussion with representatives from the Turkish American Scientists & Scholars Association, the Wild Geese Network of Irish Scientists, The World Academy of Sciences, and others. The panel and discussion sessions will focus on topics related to science and engineering diasporas.
This event is organized in cooperation with the American Association for the Advancement of Science (AAAS), the National Academy of Sciences (NAS), and the National Academy of Engineering (NAE). It is hosted in partnership with the Embassy of Ireland and Science Foundation Ireland (SFI) in recognition of Ireland's Presidency of the Council of the European Union 2013, and will include luncheon remarks by the Ambassador of Ireland to the United States Michael Collins and Prof. Mark Ferguson, Director General of SFI and Chief Scientific Adviser to the Government of Ireland.
This engagement will be held on February 14, 2013 in the Sheraton Boston Hotel, 39 Dalton Street, Boston, Massachusetts, as part of the AAAS 2013 Annual Meeting. A detailed agenda listing speakers and topics is available here: http://goo.gl/iZ2Mw
NODES seeks to develop science diaspora knowledge networks between the United States and other countries in order to spur economic growth and innovation, advance U.S. international development goals, strengthen diplomatic relationships, and promote scientific understanding.
Media representatives who wish to attend this event must register in the AAAS Annual Meeting Newsroom Headquarters, Room 101, Hynes Convention Center, Boston. For additional information about credential requirements, please visit: http://goo.gl/2nG0f