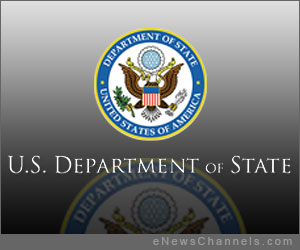 WASHINGTON, D.C. /eNewsChannels/ — Yesterday, the U.S. Department of State, in partnership with Harvard Law School's Pensions and Capital Stewardship Project Labor and Worklife Program, hosted a workshop titled "Promoting Labor and Human Rights through Investment." The May 16, 2013 event attracted representatives from the investment community, international organizations, academic institutions, and U.S. Government agencies.
During opening remarks, Uzra Zeya, Acting Assistant Secretary of State for the Bureau of Democracy, Human Rights, and Labor, emphasized State Department engagement with the private sector in advancing the rule of law, labor and human rights, responsible business practices, and other shared goals.
Acting Assistant Secretary Zeya affirmed the central role investors play and encouraged participants to discuss ways the U.S. Government and the investment community can partner in implementing the United Nations Guiding Principles on Business and Human Rights and the Organization for Economic Cooperation and Development Guidelines for Multinational Enterprises. Breakout sessions focused on supply chains, non-financial disclosures, operations in high-risk regions, divestment, and other topics.
This is the fourth stakeholder workshop the Department of State has hosted in the past year related to the U.N. Guiding Principles on Business and Human Rights. It follows the recent launch of the U.S. Government Approach on Business and Human Rights, available here: http://www.humanrights.gov/2013/05/01/u-s-government-approach-on-business-and-human-rights/ .
The Department of State will continue to convene stakeholder meetings to discuss implementation of the U.N. Guiding Principles on Business and Human Rights.