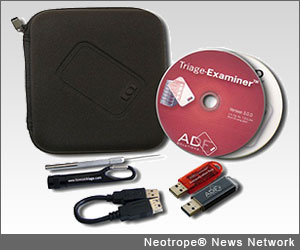 BETHESDA, Md. /eNewsChannels/ — ADF Solutions announced today that Triage-Examiner(R), a forensic triage tool, was utilized by all five of the East Midlands police forces participating in the highly successful e-Forensics pilot program conducted by the National Policing Improvement Agency (NPIA) in the U.K. The aim of the six-month pilot was to speed up the process for all forces by providing one standardized approach to the examination of computers and mobile devices.
The results have shown the five police forces achieving a 90 percent increase in the number of computer devices examined, helping officers bring more offenders to justice more quickly and significantly reducing the computer forensic backlog.
Triage-Examiner is widely deployed in the U.K. by most law enforcement agencies. It is used by field investigators and forensic examiners within high-tech crime units, public protection units, sex offender management units, child abuse units and others. The tool has had a significant impact on reducing digital forensic backlogs and solving child abuse, sex offender and fraud cases.
"By equipping investigators with automated triage tools, agencies can access digital evidence more quickly, reduce forensic backlogs and address the constantly evolving technology landscape," said Harry Parsonage, forensic triage expert at ADF Solutions. "The results of the NPIA e-Forensics pilot reflect the success we have achieved at all our client installations in the U.K. and worldwide."
"ADF is pleased to have made such a positive contribution to this successful NPIA program," said J.J. Wallia, co-founder and CEO of ADF Solutions. "We have consistently outperformed all other forensic triage tools in head-to-head evaluations."
To view a demo or request an evaluation copy of the software, visit our website at
.
– Read the full NPIA announcement here: .
– Read the Police Professional report here (PDF): .
About ADF Solutions Inc.:
Advanced Digital Forensic Solutions Inc. is the market leader in media exploitation and forensic triage tools used for scanning computers and peripheral devices. Leveraging an innovative approach, these easy-to-use tools rapidly extract actionable intelligence to help identify and capture suspects who are a threat to public safety or national security and to help accelerate prosecution of criminals. These proven tools are actively used by field operatives in defense, intelligence, law enforcement, border security and other government agencies worldwide.
Note to editors: The e-Forensics project has now transferred to the Home Office – Centre for Applied Science and Technology (CAST).
Copyright © 2012 Neotrope® News Network – all rights reserved.