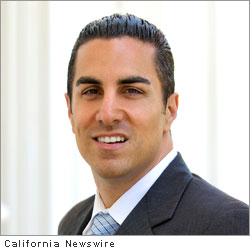 SACRAMENTO, Calif. /California Newswire/ — Calif. Assemblyman Mike Gatto's (D-Los Angeles) bill to improve California's fuel standards passed the Assembly by a vote of 77-0. AB 278 would ensure that so-called "green" fuels do not in fact harm the environment. California's Low Carbon Fuel Standard (LCFS) was created to reduce emissions from burning fuels.
It requires gasoline to be "improved" by adding ethanol, which is typically made from food crops like corn or sugarcane. This policy has been called counterproductive by some skeptics because shipping the ethanol to California increases transportation emissions and has been cited as contributing to global hunger. Additionally, environmentalists, including Jane Goodall, cite ethanol production as the primary reason huge corporations are clear-cutting pristine rain forest.
"Californians should not have to choose between clean air and higher food prices and massive deforestation," said Assemblyman Gatto. "I support the intent and goals of the current Low Carbon Fuel Standard, but believe that policymakers can come together to make it more sensible."
The impetus for the bill was growing concern that American fuel policies are negatively affecting the world's food supply. As crop lands that would have previously been used to grow food are being used to grow fuel, countries like Guatemala and Brazil are being forced to import more food from abroad. The increasing imports take a toll on both the environment and local economies as the process increases both carbon emissions and the price of food. AB 278 would require the LCFS to determine if a fuel is truly good for the global environment before blessing it as a beneficial fuel or additive.
"We need to be moving toward the most sustainable fuels as quickly as possible," said Gatto. "By making sure we account for all of the effects of food-based fuels, we can move toward more advanced and cleaner fuels, faster."
The bill now moves to the Senate for consideration.
Mike Gatto is the Chairman of the Appropriations Committee of the California State Assembly. He represents the cities of Burbank, Glendale, and La Cañada Flintridge, the Los Angeles neighborhoods of Los Feliz, Silver Lake, Atwater Village, and portions of the Hollywood Hills and East Hollywood ( www.asm.ca.gov/gatto ).
---
Copyright © 2013 California Newswire. This content is copyrighted under U.S. and international law and may only be used for non-commercial purposes by news aggregators or under license of the Neotrope® News Network (www.neotrope.net). .