Business News including New Offices and Management Changes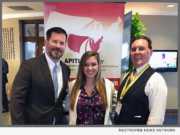 eNewsChannels NEWS: -- Attorney Bernard Walsh of the Bradenton office of Shapiro Goldman Babboni Fernandez & Walsh gave a presentation at the APITLA Interstate Trucking Super Summit. Entitled, "How an Attorney Works a Trucking Case: The A to Z Basics," the CLE accredited seminar instructed the audience of attorney and law students.
eNewsChannels NEWS: -- The Pompano Beach Community Redevelopment Agency (CRA) has issued a call for artists of all disciplines to submit applications for the City Vista Artist in Residence (AiR) program. City Vista is a mixed-use apartment building located in the heart of the developing downtown district.
eNewsChannels NEWS: -- DIB Funding, Inc. has signed a contract with FMW Media Corp., the producers of the business show "New To The Street." FMW Media's hosts will interview members of DIB Funding, Inc.'s management team monthly to discuss the ongoing developments of DIBCOIN. Their business show, "New to the Street," airs on the Fox Business Network and ION TV with 95 million viewers
eNewsChannels NEWS: -- Indiana Virtual School announces that it will be partnering with international education services provider - EdisonLearning - to expand and enhance the delivery of online courses to students and school corporations across the State of Indiana.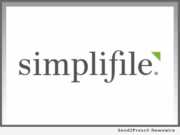 eNewsChannels NEWS: -- Simplifile, a leading provider of real estate document collaboration and recording technologies for lenders, settlement agents, and counties, has added more than a dozen new recording jurisdictions in five states across the American Northeast to its e-recording network, the nation's largest.
eNewsChannels NEWS: -- Hoge Fenton, a leading Northern California law firm, announced today that they have signed on with Boston-based Gradifi, the industry's first provider of the Employer SLP Plan(TM) (Student Loan Paydown Plan) to introduce a new benefit for its associate attorneys: financial assistance with student loans.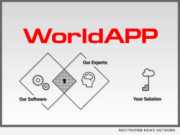 eNewsChannels NEWS: -- WorldAPP, a leading provider of mobile data collection and process optimization software today announced that it has completed financing round with Providence-based Bay Capital Investment Partners. The transaction amount was not disclosed.
eNewsChannels NEWS: -- Capacity LLC, trusted leaders in order fulfillment, e-commerce, and electronic data interchange (EDI), has partnered with Wisconsin-based automation experts Lightning Pick to bring a new fulfillment solution to clients.
eNewsChannels NEWS: -- FormFree(R) today announced that it has hired mortgage loan quality subject matter expert and analyst Ann Fulmer as its chief strategy and industry relations officer. FormFree's flagship product, AccountChek(R), is an asset verification app that streamlines the loan underwriting process for both borrowers and lenders, resulting in higher borrower satisfaction and shaving more than a week off the time it takes to close a loan.
eNewsChannels NEWS: -- DIB Funding, Inc. today announced the Company has signed a recognized entrepreneur with a keen eye on acquisitions and mergers, Dr. Cheikh Mboup, to the Company's Advisory Board. He will immediately begin integrating DIBCOIN into the Point of Sale (POS) systems in up to 500 brick and mortar stores.