Business News including New Offices and Management Changes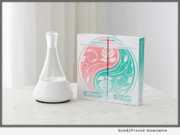 eNewsChannels NEWS: -- Organic Aromas, a leading maker of premium and specialty Nebulizing Diffusers for aromatherapy, announced today that the Company's products are to be showcased today for the first time on national network television. Organic Aromas will participate in part of a special segment called "Winter Relaxation Essentials" on CBS' award-winning talk show "THE TALK" February 22, 2018.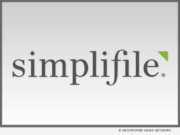 eNewsChannels NEWS: -- Simplifile, a leading provider of real estate document collaboration and recording technologies for lenders, settlement agents, and counties, announced that CUMAnet has begun using Simplifile Collaboration and Post Closing services to provide credit union clients with a centralized platform that facilitates the effortless exchange of information with settlement partners. CUMAnet intends to expand usage to facilitate electronic document recording for mortgage satisfactions.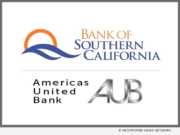 eNewsChannels NEWS: -- Bank of Southern California, N.A. (OTC Pink:BCAL / OTCMKTS:BCAL) and Americas United Bank (OTC Pink:AUNB), today announced the signing of a definitive agreement and plan of merger (the "Agreement") whereby Americas United Bank will merge with and into Bank of Southern California. The merger is subject to customary closing conditions, including the receipt of all regulatory approvals and the approval of the shareholders of AUB and BCAL, and is expected to close in Q3 2018.
eNewsChannels NEWS: -- Girls Inspired Globally ('GIG') is a new startup that seeks to allow young women to improve themselves and the world through imaginative use of readily available technologies like smart phone apps, online video, and social media. Members of GIG come from 26 countries and range in age from 16 to 68.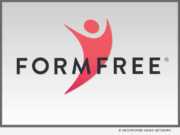 eNewsChannels NEWS: -- FormFree today announced the availability of its AccountChek automated asset verification service within LendingQB's web-based loan origination software (LOS). The integration enables lenders to order AccountChek Asset Reports directly from LendingQB's verifications dashboard.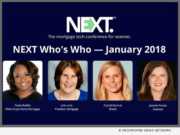 eNewsChannels NEWS: -- NEXT Mortgage Events LLC, a creator of NEXT, the mortgage technology conference for women, has announced the winners of the inaugural 2018 NEXT Who's Who list. More than 70 percent of NEXT's inaugural conference attendees participated by naming up to three attendees.
eNewsChannels NEWS: -- SFS Tax Problem Solutions Press announces the release of "Now What? I Got a Tax Notice from the IRS. Help!" (ISBN: 978-0692997154) by Jeffrey Schneider. "Now What?" is available nationwide today in paperback. It will be published in an eBook edition in March and an audio book edition in June 2018. Schneider defines and deconstructs the scary and confusing letters in a fashion that mixes attention to detail with humor and an intricate clarification of what-is-what in the world of the IRS.
eNewsChannels NEWS: -- Union Institute & University's Board of Trustees today announced the appointment of Dr. Karen Schuster Webb as the university's sixth president, effective July 1, 2018. Dr. Webb succeeds Dr. Roger H. Sublett, who is retiring after serving Union as president since April 2003. A Board-appointed transition committee will assist Dr. Sublett and President Elect Webb in the coming months.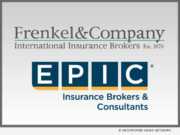 eNewsChannels NEWS: -- EPIC Insurance Brokers and Consultants (EPIC), a retail property, casualty insurance brokerage and employee benefits consultant, announced today that Michael Feinstein, executive vice president of Frenkel & Company - an EPIC Company, will present at the American Truck Dealers (ATD) 20 Group Meeting on Monday, Feb. 19, 2018 at 7 a.m. at the Phoenician in Scottsdale, Ariz.
eNewsChannels NEWS: -- Delta Care Rx, a leading pharmaceutical innovator in end of life care, announces a robust integration with Suncoast by Complia Health, a leading global provider of home health care and hospice software solutions.