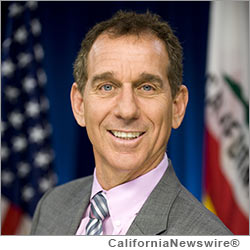 SACRAMENTO, Calif. /California Newswire/ — The California State Assembly voted this afternoon to approve a bill by Assemblymember Bob Wieckowski (D-Fremont) to raise funds to sustain a program, supported by disability rights advocates, the biotech industry, and neuro-scientists, that provides vital research into spinal cord injuries. The bill, AB 1657, passed 46 to 27 and is now headed to Governor Brown. The Governor has until September 30 to sign or veto bills sent to him at the end of the legislative session.
"This is a great victory for Californians living with paralysis," Wieckowski said. "By putting our best scientific minds to work in our universities, we can undertake state of the art research that will improve the quality of life for thousands of Californians. This bill not only gives hope to the disabled, it also sends a message that California's elected leaders want to maintain our leadership in the biosciences."
The Roman Reed Spinal Cord Injury Research Fund was created in 2000. It is run out of the University of California and administered out of the Reeve-Irvine Research Center at UC Irvine. It was originally funded out of the state general fund, but years of budget cuts have eliminated its funding. Over the history of the program, for every $1 in state funds invested, $5 of federal funds were received. It is named after Fremont Planning Commissioner Roman Reed, who suffered a spinal cord injury in the 1990s. He has since become a nationally-known advocate for research.
"Today's terrific news of AB 1657 passing the Assembly (after passing the Senate last week) is clear affirmation that California intends to lead the way to paralysis cure," Reed said.
AB 1657 would fund the program through a $1 penalty on all moving traffic violations. Eight other states use a similar method to fund spinal cord research.
"Traffic accidents are the No. 1 cause of spinal cord injuries in our country," Wieckowski said. "By simply following the rules of the road, responsible drivers will avoid being charged this small penalty."
AB 1657 is supported by the University of California, Bay Bio, a biotech industry group with more than 1,200 members, the California Healthcare Institute, Boston Scientific and several medical researchers throughout California.