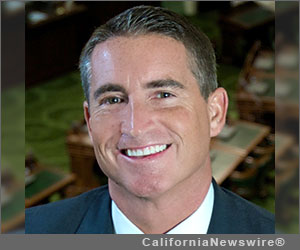 SACRAMENTO, Calif. /California Newswire/ — Today, Calif. Assemblymember Jeff Gorell (R-Camarillo) introduced legislation to clarify the way write-in candidates qualify for the general election under California's "Top Two" election system. Assembly Bill 141 reestablishes the 1 percent minimum vote requirement, allowing greater legitimacy for the write-in process.
The bill would remedy a significant flaw in state election procedures initially brought to light through investigative journalism by Timm Herdt of the Ventura County Star.
"The 1 percent minimum established a degree of legitimacy for write-in votes by assuring that an individual would not appear in a general election solely by writing in their own name," stated Assemblymember Gorell. "It makes sense that we would want to continue that requirement under the new system of state elections."
In 2010, public approval of Proposition 14 dramatically changed the way Californians choose their candidates for elected office. The new "Top Two" general election format was designed so that the two candidates who received the most votes in the state's primary election would face each other in a November general election, regardless of their own party registration.
Unfortunately, the language necessary to maintain a minimum threshold for write-in votes was not included in Prop 14, unintentionally abandoning the longstanding requirement that write-in candidates must receive at least 1 percent of all votes cast to advance to a general election. AB 141 corrects this oversight by reestablishing that 1 percent minimum.
The post Calif. Assemblyman Jeff Gorell Introduces Legislation Clarifying 'Write-In' Vote Requirements appeared first on California Newswire.