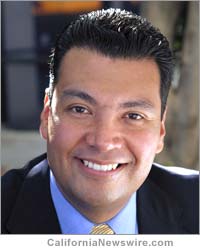 SACRAMENTO, Calif. /California Newswire/ — The California State Senate today approved SB 1160 with overwhelming bipartisan support, on a vote of 34 to 0. Authored by Senator Alex Padilla, the bill would protect California consumers by preventing the arbitrary interruption of communication services used for calling 911 in an emergency. The bill now goes to Governor Brown for his consideration.
"For decades, California law has required a court order to interrupt or shut down traditional telephone service. SB 1160 would extend these protections to the modern telecommunication networks and prohibit the interruption of service by local governments without court review," said Senator Alex Padilla.
"Open and available communication networks are critical to public safety and a key element of a free and open society. SB 1160 will protect our right of free speech," added Padilla.
In August of 2011, the Bay Area Rapid Transit Agency (BART) shutdown mobile services during public protests. Following the shutdown, BART's Board adopted a policy allowing an interruption of telecommunications services under certain circumstances.
Specifically, SB 1160 would protect the public's access to 911 services and the right to use communication networks for any lawful communications by maintaining a statewide standard allowing service interruption only as directed by a court order based on probable cause and would preempt conflicting local policies. The bill's provisions would be technology neutral and would apply to any service used for calling 911, including wireless and Internet-based services.
In June, at a hearing of the Assembly Committee on Utilities and Commerce, the bill won praise from BART Chief of Police Kenton Rainey, "I want to thank Senator Padilla for his willingness to understand the delicate balance of protecting the use of cellular communications but to also keep safe and secure the public transit system in the Bay Area."
The Federal Communications Commission (FCC) opened a proceeding on the BART shutdown earlier this year. Comments recently filed in this proceeding by numerous parties on wireless service shutdowns made clear that, in nearly every case, a shutdown of service creates more public safety problems than it solves because people in a crisis cannot call 911 or receive emergency alerts, and first responders cannot communicate effectively.
Senator Alex Padilla, 39, graduated from MIT with a degree in Mechanical Engineering. He currently serves on the Board of MIT and as President of the National Association of Latino Elected and Appointed Officials. He is Chair of the Senate Energy, Utilities and Communications Committee and represents the more than 900,000 residents of the 20th State Senate District which includes most of the San Fernando Valley in Los Angeles.