SACRAMENTO, Calif. /California Newswire/ — Governor Arnold Schwarzenegger today celebrated the completion of the first phase of Southern California Edison's Tehachapi Renewable Transmission Project, the first major transmission project in California to be constructed specifically for accessing a renewable-rich resource area. Once the entire project is completed, it will be capable of delivering 4,500 megawatts (MW) of clean electricity, enough to power about 3 million homes in Southern California. This first phase is capable of carrying 700 MW of clean electricity.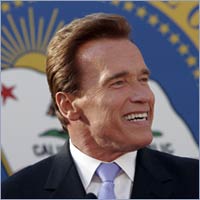 "Our bold and innovative policies have made California a world leader in renewable energy, green jobs and environmental protection, and this project is tangible evidence that we are fulfilling our renewable energy promise," said Governor Schwarzenegger. "This year alone, there are two dozen renewable energy projects looking to break ground that will create thousands of jobs and billions of dollars of investment in our state. Many of these projects will be built in remote locations so we need transmission lines, just like the Tehachapi Renewable Transmission Project, to bring the clean electricity to the cities where people live and work."
When completed, the Tehachapi project will consist of more than 250 miles of new and upgraded high-voltage transmission infrastructure, including power lines and substations. It will extend from Eastern Kern County to the city of Ontario in San Bernardino County, passing through portions of the Antelope Valley, the Angeles National Forest, the San Gabriel Valley and the Western Inland Empire. During the next five years, Southern California Edison, an Edison International company, forecasts that it will invest $21.5 billion to expand, green and strengthen the region's power grid. A total of $5.5 billion, or 26 percent of this investment, is directed toward the transmission grid.
California has over 15,000 wind turbines providing wind power that makes up about one percent of the state's electricity. The Tehachapi is the second largest collection of wind turbines in the world with around 5,000, right behind the world's largest, the Altamont Pass near the Bay Area that has around 7,000. The Tehachapi project will also transport electricity from several large-scale solar projects currently in development.
Governor Schwarzenegger has a strong and proven commitment to expanding California's clean energy that will create jobs, influence national policies and provide a cleaner environment for future generations. In March, the Governor joined U.S. Department of the Interior Secretary Ken Salazar in announcing a new joint program to make it easier to conserve land for endangered species and for developers to build renewable energy projects in California. The program, created by SB X8 34, authored by Senator Alex Padilla (D-Pacoima) and signed by the Governor, will help further streamline and speed up the permitting and siting process for large-scale renewable energy projects that will provide jobs and greater energy independence and attract investment. Other actions to promote clean, renewable energy in California include:
•Renewable Portfolio Standard (RPS): Governor Schwarzenegger signed an Executive Order directing the California Air Resources Board to adopt regulations increasing California's Renewable Portfolio Standard to 33 percent by 2020. This will ensure California will have the flexibility needed to use renewable energy sources for 33 percent of our energy consumption by 2020 and places the highest priority on renewable resources that will provide the greatest environmental benefits that can be developed quickly and support reliable, efficient and cost-effective electricity system operations including resources and facilities located throughout the Western Interconnection.
•Global Warming Solutions Act of 2006 (AB 32): AB 32 established a first-in-the-world comprehensive program of regulatory and market mechanisms to achieve real, quantifiable, cost-effective reductions of greenhouse gas emissions. The law will reduce carbon emissions in California to 1990 levels by 2020. Mandatory caps will begin in 2012 for significant sources and ratchet down to meet the 2020 goals. The Governor has also called for the state to reduce carbon emissions to 80 percent below 1990 levels by the year 2050.
•Million Solar Roofs Initiative: The Governor's $2.9 billion incentive plan for home and building owners who install solar electric systems, now known as the California Solar Initiative, will lead to one million solar roofs in California by the year 2018, provide 3,000 megawatts of clean energy and reduce greenhouse gas emissions by 3 million tons.
Governor Schwarzenegger has also enacted legislation promoting clean energy investment in California. Earlier this year, the Governor signed SB 77 by Senator Fran Pavley (D-Santa Monica) establishing the statewide Property Assessed Clean Energy (PACE) Reserve Program that will lower financing costs for businesses and residences in California to make energy improvements through retrofits, like installing energy efficient windows, on existing properties. PACE will not only help increase energy efficiency and lower energy costs for consumers, it will also create more than 10,500 jobs according to Senator Pavley. The Governor also signed AB 510 by Assemblymember Nancy Skinner (D-Berkeley) to raise the requirement on net metering in California; ensuring home and business owners continue to invest in solar power.
In 2008, Governor Schwarzenegger signed AB 1451, AB 2466 and AB 2267 to build on California's commitment to increase renewable energy use. AB 1451 builds on the state's solar power usage by continuing a property tax exclusion for projects that utilize solar panel energy and expanding the exclusion to builder-installed solar energy systems in new homes. AB 2267 builds on the state's green economy by requiring the California Public Utilities Commission to grant incentives to eligible California-technology manufacturers. This bill also requires the CEC to give priority to California-based companies when granting awards and will not only create jobs for hardworking Californians but will attract more clean-tech and green-tech companies to the state. AB 2466 will increase energy efficiency and help protect the environment by authorizing local governments to receive a utility bill credit for surplus renewable electricity generated at one site against the electricity consumption at other sites.