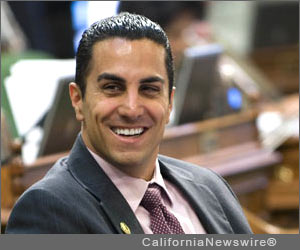 SACRAMENTO, Calif. /California Newswire/ — Open access advocates in California celebrated last week as AB 609 passed the Assembly floor by a vote of 71-7. The bill, co-authored by Democratic Assemblyman Mike Gatto (D-Los Angeles) and Republican Assemblyman Brian Nestande (R-Palm Desert), would ensure that research conducted using public funds is available to the public, including the scientists, scholars, and businesses that rely on it.
"California taxpayers invest hundreds of millions of dollars annually in research," explained Gatto. "If the public is paying for the research, the public should have open access to the results without paying for it twice."
Gatto's legislation was inspired by the tragedy of Aaron Swartz, a computer programmer, internet activist, and research fellow at Harvard University, who fought to make publicly funded academic research available for free. After illegally downloading articles from peer reviewed journals, with the intent of making them freely available online, Swartz was investigated, interrogated, intimidated, and prosecuted as a felon. Facing millions of dollars in fines and more than 150 years in prison, the 27-year-old took his own life.
"Aaron Swartz followed in the footsteps of our founding fathers and stood up to authority in the pursuit of knowledge," said Gatto. "While I may not agree with all of his tactics, Aaron was a victim of outdated and contradictory laws that failed to recognize the wisdom of his goals."
AB 609 would require researchers receiving taxpayer-funded grants to provide open access to journal articles related to their research. Currently, articles on the results of publicly funded research are only available through costly journal subscription services. Subscription services contribute little to the research itself, but charge as much as $100 for access to a single article, with some journals costing as much as $40,000. The University of California system now spends nearly $40 million each year to buy access to academic journals and articles, even though many of the articles are written, reviewed, and edited by UC professors as part of their publicly funded research or academic duties.
"Forcing someone to pay large fees to find the results of research paid for by tax dollars limits the public's ability to be informed and stifles innovation," said Gatto. "We must ensure that Californians have access to the most up-to-date and cutting-edge research. This bill is a simple solution that promotes the sharing of knowledge and investment in our future."
Mike Gatto is the Chairman of the Appropriations Committee of the California State Assembly. He represents the cities of Burbank, Glendale, La Cañada Flintridge, the Los Angeles neighborhoods of Los Feliz, Silver Lake, Atwater Village, and portions of the Hollywood Hills and East Hollywood. http://www.asm.ca.gov/gatto
---
Copyright © 2013 California Newswire. This content is copyrighted under U.S. and international law and may only be used for non-commercial purposes by news aggregators or under license of the Neotrope® News Network (www.neotrope.net). .