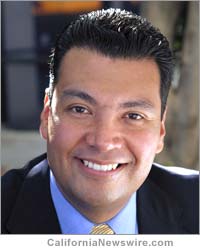 SACRAMENTO, Calif. /California Newswire/ — The Chair of the California State Senate Committee on Energy, Utilities and Communications Senator Alex Padilla (D-Pacoima), today issued the following statement regarding the state's use of the emergency Amber alert system:
"The Wireless Emergency Alert system is a critical new tool for delivering Presidential alerts relating to national security, Amber alerts, and alerts regarding life-threatening emergencies such as fires, floods and earthquakes. Participation by the public and the wireless industry is voluntary. Thus, government must act prudently to harness the full potential of this powerful new tool to enhance public safety.
I support the Speaker's efforts to enhance public education about the Wireless Emergency Alert system. At the same time, the Legislature must ensure appropriate oversight and chain of authority within the California Highway Patrol, Office of Emergency Services, and other relevant agencies so that alerts are used sparingly and effectively to earn the public trust.
In addition, we must look at the Wireless Emergency Alert system as part of a larger transformation of emergency public safety communications systems made possible by mobile services and broadband that will eventually include texting to 911, Next Generation 911, and public safety broadband networks. The loud distinctive alarms of the Emergency Broadcast System have been trusted signals of emergency since the 1960s. Now, a whole new generation of services enables sending and receiving voice, data, photos, and video, all with immense potential to enhance public safety and rapid delivery of emergency services. But government must deploy and administer these in a manner that earns public confidence and participation."
For more information, see "Emerging Communications Technologies and Public Safety Networks," informational hearing of the Senate Committee on Energy, Utilities and Communications, February 11, 2013:
Senator Alex Padilla, 40, graduated from MIT with a degree in Mechanical Engineering. He currently serves on the Board of MIT and is President of the National Association of Latino Elected and Appointed Officials. He is Chair of the Senate Energy, Utilities and Communications Committee and represents the more than 1,100,000 residents of the 20th State Senate District in Los Angeles. For more information about Senator Padilla visit his website http://sd20.senate.ca.gov/ .
---
Copyright © 2013 California Newswire. This content is copyrighted under U.S. and international law and may only be used for non-commercial purposes by news aggregators or under license of the Neotrope® News Network (www.neotrope.net). .

The version of above news story by Christopher Simmons, California use of Amber Alert System Focus of Statement by Senator Alex Padilla was syndicated from California Newswire.