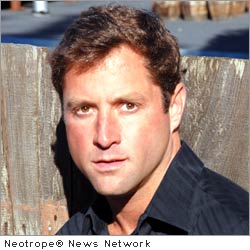 SAN FRANCISCO, Calif. /eNewsChannels/ — John Waguespack, is showcasing his new works at The McLoughlin Gallery in San Francisco December 8, 2011 through January 21, 2012. "Deconstructing Hollywood" is his second solo exhibition at The McLoughlin Gallery at 49 Geary Street in San Francisco.
Waguespack emerged onto the San Francisco art scene in 2005 fusing different mediums, oil, acrylic, ink, and industrial design, providing a fresh perspective to his figurative, abstract striped images inspired from current events and pop culture.
"This collection is a result of my time spent in Hollywood this summer. This body of new work encompasses deconstructing Hollywood icons to depicting the Los Angeles landscape. End result – ecstasy," said John Waguespack.
The opening reception for the artist will take place on Thursday December 8, 5:30-7:30 p.m. and the exhibition will remain on display until January 21, 2011.
"John is an innovator giving pop-art a fresh attitude by blending different mediums and techniques into his work. He is among the 21st Century artists who are strongly influenced by social media and the demands of young collectors to create art they can relate to. It is an exciting, evocative time," states Joan McLoughlin, Gallerist, The McLoughlin Gallery.
Supporting Resources:
* Deconstruct Reconstruct: The Art of John Waguespack (PDF): www.mgart.com/files/Deconstruct%20Reconstruct_ArtPress_Dec_2010.pdf .
* John Waguespack Artist Page McLoughlin Gallery: www.mgart.com/artist-detail.php?id=159&title=John+Waguespack .
* John Waguespack Home Page: www.johnwaguespack.com/ .
* John Waguespack features on the cover of 7×7 SF July 2011 with The McLoughlin Gallery: www.7×7.com/arts-culture/new-guard-5-citys-most-exciting-new-galleries .
* View John Waguespack's "Evolution of a Piece" on YouTube: youtu.be/DE12xh8j3gk .
About John Waguespack:
Born in 1971 in Atlanta, Georgia, John Waguespack is an emerging artist now residing in San Francisco. Using oil on canvas, John creates abstract painting incorporating pop-art icons to address political issues of today and the decade of his birth, the '70s.
About The McLoughlin Gallery:
The McLoughlin Gallery (www.mgart.com) is an approachable, inviting gallery with a social conscience. The main focus of the gallery is to educate and intrigue by showcasing established European contemporary artists and local emerging artists while giving back to the community.



Copyright © 2011 Neotrope® News Network – all rights reserved.