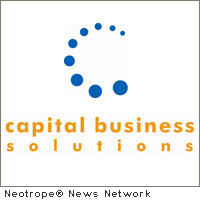 RALEIGH, N.C. /eNewsChannels/ — Capital Business Solutions, a fund accounting and fundraising solution provider, announced today a milestone for DrillPoint Reports, an application developed by Capital Business Solutions for nonprofit organizations using Sage Fund Accounting software. Capital Business Solutions has sold its 50th license for DrillPoint Reports.
"In our work with nonprofits, we continued to see the need for advanced reporting features in order to help nonprofit professionals spend less time on preparing reports and more time on analyzing the data important to their organization's operations," said Capital Business Solutions Co-Founder Robbie Pollock. "That's why we developed DrillPoint Reports as an enhancement to the award-winning and widely used Sage Fund Accounting software."
DrillPoint Reports was released in December 2009 and allows users to easily access financial data within Microsoft Excel® and create presentation-quality financial statements using a familiar, user-friendly spreadsheet application.
"Our nonprofit customers using DrillPoint Reports benefit from the ability to combine financial and non-financial information to provide outcomes measurements in real time, creating presentation-ready reports while harnessing the power of Microsoft Excel instead of requiring end users to learn or have expertise with the accounting system," noted Pollock.
One of the benefits of DrillPoint Reports is that there is no limit to the number of grants or programs that nonprofits may set up. A wide variety of nonprofit organizations including Community Action Programs (CAP Agencies), Health Centers, and Museums can benefit from DrillPoint Reports. DrillPoint Reports can also assist nonprofit executives who need to disseminate data to non-technical users.
About Capital Business Solutions:
Capital Business Solutions is a recognized leader in providing cutting edge, integrated financial software solutions and professional services purpose-built for the nonprofit and public sector. Capital Business Solutions is an authorized Sage Business Partner (Sage Fund Accounting, Sage Fundraising 50, and Sage Abra HRMS), a third party resource for Blackbaud software (Financial Edge, Raiser's Edge, and Education Edge) and a Serenic Navigator reseller. Offering our clients more than thirty years of combined industry-specific experience, we have successfully implemented more than 500 clients in our 13 years of operation. Capital Business Solutions serves the Southeastern and Midwestern United States with offices in Raleigh, N.C.; Charleston, S.C.; Atlanta, Ga., and St. Louis, Mo.
More information: http://www.capitalbusiness.net .
Copyright © 2011 Neotrope® News Network – all rights reserved.