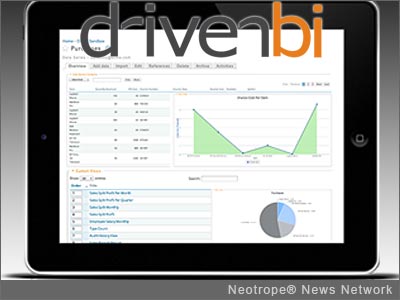 PASADENA, Calif. /eNewsChannels/ — NEWS: DrivenBI and Return on Efficiency today announced their partnership, empowering customers to achieve operational insights in entirely new ways. SRK simply replaces spreadsheets for analysis, delivering self-service capability for reporting and Operational Dashboards demanded by the insurance industry. SRK unifies, analyzes and presents data from insurance operations and systems in shareable and actionable report snapshots and intuitive dashboard creation.
SRK also offers users the ability to set their own thresholds and alerts as well as to "socialize" their analysis.
"We are excited to partner with Return on Efficiency, incorporating the next generation of self-service data analysis, SRK, into their Insurance Practice. With SRK, Insurers can achieve the best insights into their operations, simply, elegantly and in a fraction of the time of other solutions," said Ben Tai, CEO and founder of DrivenBI.
Key Product Features:
* Combine multiple data sources easily and replace spreadsheets for analysis;
* Share commentary and collaborate on tasks;
* Apply user access and role-based data access security;
* Create time-critical reports and dashboards without IT support;
* Access reports and dashboards on mobile devices on the go.
"By delivering end-user flexible access to the wealth of information available in their data rich operations, insurers will have a significant competitive advantage and greater value to their customers," said Richard Eichen, Managing Principal of Return on Efficiency, LLC. He added, "We leverage SRK's rapid implementation capability to build user-driven data analytics and dashboards for our clients in significantly less time and cost as compared to other solutions. We also use SRK as part of our cost workout and process improvement practices."
About DrivenBI:
DrivenBI provides an innovative self-service analysis engine designed to unify, analyze and report data aggregated from multiple sources through its cloud-based analytics platform. Its products quickly replace spreadsheets for analysis and deliver data insights to organizations with speed and simplicity. DrivenBI analytics platform offers ease of use, consistency of results and facilitation of cross-department collaboration by business users, reducing the reliance on IT. This allows users to move away from their spreadsheets and IT centric BI tools and experience immediate answers and actions. For more information, visit http://www.drivenbi.com/ .
About Return on Efficiency:
Return on Efficiency, LLC focuses on companies and initiatives where technology is a key source of revenue and the customer experience. Their services include Interim Management, Project Management & Rescue, Vendor Turnaround, Technology Strategy, Systems Integration, Process Optimization, and New Digital Product Development. Return on Efficiency is a leader in the emerging "asset based consulting" arena, where issues are identified through BI based analysis, and then monitored once a process is improved to ensure sustainability. For more information, visit http://www.growroe.com/ and http://www.growroe.wordpress.com/ .
This version of news story is Copr. © 2013 eNewsChannels™ (www.enewschannels.com) and the Neotrope® News Network – all commercial and reprint rights reserved. Unauthorized reproduction in whole or in part without express permission is prohibited.