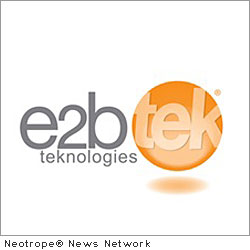 CHARDON, Ohio /eNewsChannels/ — e2b teknologies has been named a 2011 Pacesetter by Accounting Today magazine. This is the second consecutive year that e2b teknologies has been selected as a Pacesetter. Accounting Today magazine awards the Technology Pacesetter award annually to 100 organizations that market financial midmarket applications.
In the 2011 Pacesetters cover story, Seth Fineberg, Accounting Today's technology editor, wrote, "As the economy begins its recovery, today's leading resellers and consultants of accounting technology have earned their place on our Technology Pacesetters list of top-flight accounting and ERP VARs, not simply by selling the latest software, but by being able to offer essential, often new, services to their clients and focusing more on key vertical markets."
"The Technology Pacesetter list is a who's who in our industry," said e2b President Lynne Henslee. "We are truly humbled to be in such great company with innovative and entrepreneurial leaders who are changing the way that businesses utilize technology to manage their businesses. We see the cloud as the next frontier in business technology, and have expanded our portfolio with full-service, custom cloud-based business software development services."
e2b teknologies has expanded its product offerings representing numerous ERP products for distributors, manufacturers, service organizations, and other industries – most recently adding SaaS-based ERP software SAP Business ByDesign.
e2b teknologies CEO Bill Henslee was quoted several times in the November 2011 Accounting Today Technology Pacesetters article stating, "We've seen a dramatic increase in demand for cloud-based applications in just the past two years. We also refocused our e2b custom software development business on custom cloud-based business software development. Investments we're made are already starting to pay off, but we understand that reinventing your business takes times and we are focused on continued growth in the cloud. It's a simple fact – we've seen interest in cloud-based ERP double in just a few years. More and more companies are considering cloud-based ERP, while others are demanding it up front."
e2b teknologies (www.e2btek.com) provides ERP business software for distribution, manufacturing, and service companies. Anytime Collect (www.anytimecollect.com) accounts receivable collections software and e2b 500 are delivered through its e2b software division. e2b software (www.e2bsoft.com) also provides custom cloud business software development services.
Copyright © 2011 Neotrope® News Network – all rights reserved.