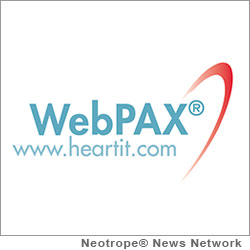 DURHAM, N.C. /eNewsChannels/ — Heart Imaging Technologies (Heart IT), the global leader that pioneered the first FDA approved zero footprint medical imaging workstation, today announced record sales for the first half of 2012. Revenue for the first half of 2012 was two and one half times the revenue for the same period last year, and nearly exceeded total revenue for all of 2011.
Fiscal year 2011 itself set an all-time company record for revenue generated by sales to health care providers and clinical trials organizations. Record sales were attributed to its flagship product: WebPAX(R).
Hospitals in the U.S. and around the globe are purchasing WebPAX(R) for the unique features, abilities and economic price it offers. WebPAX(R) provides the capability to acquire medical images from any DICOM compliant scanner and then make those images readily available on any computer through any web-browser without the need for clients or plug-ins (zero footprint imaging), essentially turning any computer into a medical image viewing workstation. This feature gives hospitals the ability to easily share medical images and reports with referring physicians via e-mail and the internet.
Even though web based, WebPAX is diagnostic capable and has received FDA 510k clearance. WebPAX(R) also provides the capability to upload medical images remotely which alleviates the need to send images manually via CDs. These and other key features are driving hospitals to make the decision to acquire WebPAX(R) in order to effectively manage and distribute medical images across their enterprise.
About Heart IT:
Founded in 2000 and headquartered near North Carolina's Research Triangle Park, Heart IT is a global leader in the medical image web enablement field. Their flagship product, WebPAX(R) is the first FDA approved zero foot-print medical image workstation. It provides web-based medical image management technology and services to health care systems, large hospitals and private clinics as well as drug and device companies sponsoring multi-center clinical trials. Worldwide, WebPAX(R) systems currently provide secure web browser access to over one billion medical images. For more information visit our website at http://www.heartit.com/ .
Copyright © 2012 Neotrope® News Network – all rights reserved.