STATE COLLEGE, Pa. — "Shadows of War: Prelude to Memorial Day" (ISBN: 978-0-615-20254-9) is the first title to be released by Crandall Publishing. This new book is a middle-grade historical novel written for ages 9-12. It focuses on the beginning of Memorial Day and Civil War-related events. "Shadows of War" is an intriguing story built around love, loyalty and compassion for family, community, and country — qualities that continue to have implications for young people today. Students of Civil War history will be intrigued as history comes alive through the retelling of actual events that took place during the American Civil War.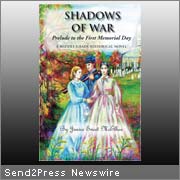 The novel enables young readers to visualize the impact the Civil War had on the small village of Boalsburg, Pennsylvania. It provides them with an understanding of the magnitude of the events that eventually led to the first observance of Memorial Day.
Author, Janice Sweet McElhoe, Ph.D., has written a story that young readers can relate to. In the novel, brave teens and classmates at the Boalsburg Academy trade their books for guns and march off to war, while the young women in the class are left behind.
"Shadows of War" is a retelling of the events that took place prior to, and during, the deployment of Company G, and is based on the memories of Sophie Keller that she first recorded in "Sister's Story."
Key characters in the novel are: Sophie, Dan and Emma. Sophie and Emma are left to shoulder the responsibilities at home, and are joined by other women of the community to face the increasingly difficult days, weeks, months and years that culminated in the observance of the first Memorial Day.
Sophie's brother, Dan, is the hero at the center of the story. His strength and commitment are complemented by his youthful vigor. His letters sent home, and those of his friends, were used to trace their paths during wartime.
"I often wondered how this poignant story had stayed so obscure and I wanted to share it," Dr. McElhoe says. "Having grown up in Boalsburg, I had a personal connection to the story and decided to write it for young readers; it was inevitable."
To meet the author, visit the Boalsburg Heritage Museum, Oct. 11, 2008, 12:00-4:00 p.m.; for more information, lesson plans, or to order on line, visit .
[tags]Crandall Publishing, Shadows of War, Prelude to Memorial Day, Author Janice Sweet McElhoe[/tags]