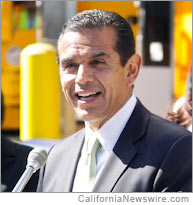 LOS ANGELES, Calif. /California Newswire/ — On Monday, Los Angeles Mayor Villaraigosa announced the development of an online resource for the Los Angeles apparel industry. The Mayor's Office of Economic and Business Policy will partner with the Los Angeles Regional Export Council (LARExC) to research and compile the first-ever online comprehensive resource guide of apparel industry suppliers and manufacturers in LA. The tool will serve as a roadmap of Los Angeles' vast apparel industry, driving more business to local contractors and ultimately, creating more jobs.
"Our message to apparel companies is simple: if you want it to say 'Made in USA,' make it in LA," said Mayor Villaraigosa. "In a word-of-mouth industry, this tool will make it that much easier to manufacture in Los Angeles."
This is the first effort of its kind undertaken by an American city and is expected to take about six months to complete. The announcement was made with U.S. Department of Commerce Under Secretary for International Trade Francisco Sanchez while opening the first-ever "Made in Los Angeles" pavilion at SOURCING at MAGIC, the largest apparel trade show in North America. The Department of Commerce is undertaking a similar effort on a national level and the City plans to work closely and in concert with that effort.
About Los Angeles Regional Export Council (LARExC):
LARExC is a public-private partnership between government, business, and educational institutions that is working to coordinate and streamline export services in the Los Angeles region. LARExC is a model for regional export plans around the country and is funded by contributions from City, State, and Federal sources, as well as from the private sector. JP Morgan Chase recently became the first private sector investor to commit funding to LARExC.