RANCHO SANTA MARGARITA, Calif. — First time author Aimee Schmidt releases a new children's book today focused on teaching kids about the value of being a unique person. The book, "Abner Finklestein" (ISBN: 978-1-933732-16-9), focuses on a troubled child that finds himself getting made fun of on a consistent basis by his peers. To cope with being put down, the main character creates an imaginary friend, and in the process finds that being unique is not so bad after all.
Abner Finklestein is published under the Bear Hug Books imprint, which is part of the Mid-America Publishing Company. The book is illustrated by Laurie Faust, a celebrated illustrator with many current children's book illustrations under her belt.
For Aimee Schmidt, writing a children's book about the benefits of being unique is not a far stretch from her everyday duties as owner of TheFrap.com, and mother of a young child herself.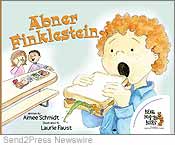 Featured on countless television and internet news programs, TheFrap.com offers an eclectic mix of products, of which Abner Finklestein is one. Some of the top selling products on Aimee Schmidt's website are products created by children for children. Everything from handbags to t-shirts that have been created by children is for sale on the website. Seeing children blossom in such a unique way has helped with the conception and development of the Abner Finklestien book.
"From my perspective I see children benefiting from being different all the time. It's a way for them to stand out from the crowd. At a young age it is hard not to feel the peer pressure of fitting in with the popular trends, but there are major benefits to marching to your own drummer. This children's book aims to show children this message in a fun way," explains Schmidt about her new book.
With the likes of MySpace, and other social websites, offering children a daily dose of virtual peer pressure, it is a relief that people like Aimee Schmidt are offering innovative ways for children to learn that it's ok to be unique, and that popular doesn't always stand for what's best in one's life.
With a children's book illustrated by an industry veteran that focuses on a relevant issue facing the children of today, it is no doubt that parents and children alike will enjoy taking the time to read it together.
"Abner Finklestein" (ISBN-13: 978-1-933732-16-9) will soon be available for purchase at Amazon.com and is now currently available at Schmidt's website TheFrap.com and Bear Hug Books' website (mapubco.com).
[tags]author Aimee Schmidt, new books, Abner Finklestein, Bear Hug Books imprint, Mid-America Publishing Company, illustrator Laurie Faust[/tags]