Consulting News, including Consultants, Advisors and Related News
eNewsChannels NEWS: -- Ward Henderson Management analysts say relief brought by Brexit extension could come at a hefty price. Last month, with less than 48 hours before the originally scheduled date of departure, European Union leaders agreed to extend the Brexit deadline to 31 October this year with a review scheduled for the end of June.
eNewsChannels NEWS: -- Tyto Athene, LLC, a market leader in solving complex operational challenges by making information securely available across myriad technologies worldwide for government customers, backed by Arlington Capital Partners, has announced today its acquisition of Island Information Technology Consultants (IITC).
eNewsChannels NEWS: -- RMA has much to celebrate as the economic development firm marks its 10th anniversary in March 2019. Founded by Kim Briesemeister and Chris Brown in 2009, the partners set out to provide comprehensive consulting services to cities seeking an innovative approach for major redevelopment initiatives and targeted economic development.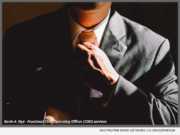 eNewsChannels NEWS: -- With the emergence of Fractional Leadership Roles in the business community, local consultant Kevin A. Nye recently introduced Fractional Chief Operating Officer (COO) services for small businesses in Southern California.
eNewsChannels NEWS: -- RMA (www.rma.us.com), a Florida-based consulting firm is expanding their client base beyond the Sunshine state. The economic development, redevelopment and business attraction experts were hired last year by the City of West Columbia in South Carolina to create a Citywide Redevelopment Plan and a Community Revitalization Plan for the municipality; both were unanimously accepted by the city council this month.
eNewsChannels NEWS: -- Government communications expert Elliot Cohen says he is changing the way cities tackle resident outreach. The former head of communications for both public agencies and cities says government needs to shift its mentality away from passive public relations and towards a new model mirroring pro-active private sector communication.
eNewsChannels NEWS: -- Advanced Mediation Solutions (AMS) provides a wide range of mediation services. Some of their specialties include divorce and family mediation, high net-worth divorce mediation, business partnership mediation, and workplace mediation. Recently, they have seen a sharp rise in requests for business and workplace mediation services.
eNewsChannels NEWS: -- RMA has been contracted by the City of Deltona in Florida to provide a strategic 5-year economic development plan for a Business Park and Manufacturing Related Recruitment. The award-winning firm's scope of services, in addition to the plan, will also include relationship building with multiple partner organizations to ensure support of new initiatives and meetings with developers.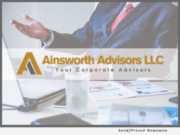 eNewsChannels NEWS: -- Ainsworth Advisors, LLC, a group of veteran mortgage industry leaders offering strategic and tactical advice, helping improve efficiencies and developing strong leadership teams for world-class mortgage lending businesses, today announced it has deepened its bench strength with unparalleled expertise in key operations and planning areas.
eNewsChannels NEWS: -- RMA today announced it has been selected by the City of Cape Coral, Florida to provide implementation management consulting services related to the Bimini Basin Implementation Plan. The award-winning economic development firm will provide a scope of services including investment attraction, property acquisition and the promotion of development opportunities.