Consulting News, including Consultants, Advisors and Related News
eNewsChannels NEWS: -- Jill Young, founder of Dallas-based TractionFirst, uses her experience to teach business owners how to grow and thrive. "The Courage Advantage: 3 Mindsets Your Team Needs to Cultivate Fierce Discipline, Incredible Fun, and a Culture of Experimentation" (ISBN: 978-1647462819) began as a result of a question asked by a new client, "I know why this coaching will work. What do you think is happening when it doesn't work?"
eNewsChannels NEWS: -- MediSked LLC, a leading human services technology provider, announced today that the MediSked Care Coordination Suite comprised of MediSked Coordinate, MediSked Connect Exchange and MediSked Portal hosted in Amazon Web Services (AWS) has earned Certified status for information security by HITRUST®.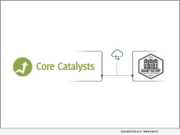 eNewsChannels NEWS: -- Consulting firms Core Catalysts and Smart Factory have announced a new partnership. In response to a significant increase in demand by their Healthcare, Finance, Insurance, and Manufacturing clients, the two companies have teamed up to create a new line of service targeted at solving cloud sprawl.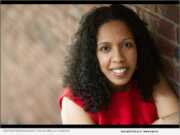 eNewsChannels NEWS: -- Malla Haridat is an entrepreneur and author who has used all possible platforms to advocate for women empowerment. In line with her goal to help people develop an entrepreneurial mindset, Malla is set to speak at the WE NYC Conference: 10 Ways to Uncover New Business Opportunity.
eNewsChannels NEWS: -- Katrina Bragg, owner of Task Mania, a leading virtual administrative assistant service, today launches "Finishing Touches," a living document designed to capture and organize an individual's most important personal information.
eNewsChannels NEWS: -- Klingenstein Fields Wealth Advisors (KFWA) announced today that, together with its affiliate, KF Group, LP, with which it conducts a fully-integrated advisory business, it is now operating under the brand name Klingenstein Fields Advisors (KF Advisors).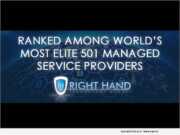 eNewsChannels NEWS: -- Right Hand Technology Group has been named as one of the world's premier managed service providers on the prestigious 2020 annual Channel Futures MSP 501 rankings.
eNewsChannels NEWS: -- Facilities Planning Services Group has announced the formation of the FPS Re-shoring Team. This team of specialist will help USA companies relocate their manufacturing operations back to the mainland to lessen their dependency on offshore outsourcing.
eNewsChannels NEWS: -- ZenTek Consultants is pleased to announce the launch of the ZenTek Civil Engineering Hub, the premier professional tool for anyone who works in the Civil Engineering & Survey industries.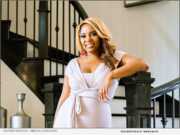 eNewsChannels NEWS: -- Serial Entrepreneur, Simone Adrianne, specializes in teaching women how to make an impact by turning obstacles into opportunities. Simone has created three six-figure brands: Overcoming Her, The Overcomer Club, and #TheLaunchPad since becoming an entrepreneur at the age of 23.