Kentucky Business News, Entertainment and Technology News (U.S.)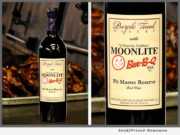 eNewsChannels NEWS: -- Two years in the making and the Moonlite Bar-B-Q Inn is now ready to unveil a new sweet red wine that pairs perfectly with its award-winning barbecue. It's called Pit Master Reserve and it's produced by the most award-winning Kentucky winery too. It'll make you swoon at the moon.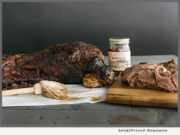 eNewsChannels NEWS: -- The Moonlite Bar-B-Que Inn has been in business for more than 55 years and continues to make headlines in the world of barbecue. While some may sit on their laurels after more than half century, Moonlite Bar-B-Que knows that you always have to be on top of your game.
eNewsChannels NEWS: (OWENSBORO, Ky.) -- March 2, 2017 is designated "Read Across America" day by the National Education Association, and the Moonlite Bar-B-Q-Inn is taking it one step further. It's partnering with the University Press of Kentucky and the Daviess County Public Library to host community reading events every Monday night in March.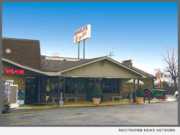 eNewsChannels NEWS: (OWENSBORO, Ky.) -- When Patrick Bosley, manager of the Moonlite Bar-B-Q-Inn, learned that their heritage barbeque restaurant was named as one of 15 of the world's happiest places in not just the state, but the world, he was equally surprised as he was thrilled.
NEWS: (COVINGTON, Ky.) A web developer and veteran of the U.S. Navy, Michael Hebert, is creating a series of online games honoring the 225th anniversary of ratification of the Bill of Rights. Hebert, Owner/Operator of MH Virtual, LLC, was born in the ninth state to ratify the document (Rhode Island) and calls the game collection 'Civics Match.'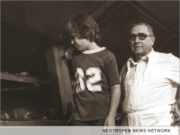 OWENSBORO, Ky. /eNewsChannels/ -- NEWS: Moonlite Bar-B-Q Inn in Kentucky was recently selected to be part of a permanent exhibit, 'Trail of Smoke and Fire', in the Southern Food and Beverage Museum in New Orleans. Pappy Bosley's cleaver and butcher knife, and an original menu from 1963-1965 accompanied by historical photos will be part of the installation.
LOUISVILLE, Ky. /eNewsChannels/ -- NEWS: California-based Lost Spirits LLC has built a new type of chemical reactor capable of making aged spirits with a near identical chemical signature to 20 year old barrel aged products. The new reactors are compact, portable, and will be deployed to 5 distilleries in a beta-test this summer. Currently, there are several patents pending that cover their approach.
LOUISVILLE, Ky. /eNewsChannels/ -- NEWS: Today, Papalinos Italian Pub, voted Best Pizza in Louisville by Louisville Magazine readers, announces it is looking for a new home in the Highlands for its Baxter Ave. location. The Papalinos Baxter Avenue restaurant was the launch site for the brand and has a strong following from the Louisville Highlands community.
LOUISVILLE, Ky. /eNewsChannels/ -- NEWS: Liquor Barn has joined forces with Rod and Rifle Bourbon and Wildlife Forever in the conservation of Kentucky's hunting and fishing heritage. Liquor Barn's participation allows Wildlife Forever to greatly increase the number of conservation projects for hunting and fishing enthusiasts in Kentucky.
HARDIN, Ky. /eNewsChannels/ -- NEWS: Newcomer spirits maker Silver Trail Distillery, of Hardin, Kentucky, had repeated its 2012 Gold Medal for its classic LBL '1950's Style' Moonshine in 100 proof at the World Spirits Competition 'Spirits International Prestige' (SIP Awards). Besides the 2013 Gold for the 100 proof, the company won Gold in the flavored whiskey category with its apple pie flavored Moonshine - LBL Apple Sin.