Louisiana Business News, Entertainment and Technology News (U.S.)
eNewsChannels NEWS: -- Synergy is pleased to announce its strategic partnership with recent Ernest N. Morial Small Business of the Year Award winner Airware. Airware is a minority certified business with a long track record of introducing innovation at the local, state and Federal government level.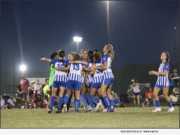 eNewsChannels NEWS: -- Louisiana Soccer Association, a state association of the United States Soccer Federation, announced today it has signed a new technology partnership with TeamSnap, the leader in integrated sports management.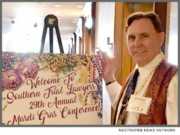 eNewsChannels NEWS: (NEW ORLEANS La.) -- Bernard F. Walsh of the personal injury and civil trial law firm Shapiro Goldman Babboni Fernandez & Walsh attended the 29th Annual Southern Trial Lawyers Association Mardi Gras Conference. Bernard Walsh is an active member in multiple legal organizations including the National Trial Lawyers Top 100 Trial Lawyers.
NEWS: (HARAHAN, La.) TriWest Healthcare Alliance welcomed employees to the company's New Operations Center in Harahan, La. on Monday. TriWest serves the community health care needs of America's veterans, alongside the Department of Veterans Affairs (VA) in administering the Veterans Choice Program.
NEW ORLEANS, La. /eNewsChannels/ -- NEWS: San Fermin in Nueva Orleans (SFNO), the founders of the New Orleans Running of the Bulls, have planned four days of special events, including the 9th Annual El Encierro, or running the bulls - New Orleans-style! This year will be celebrated as El Ano Rosa (The Pink Year) to honor co-founder Beth Hanning, who successfully battled breast
DOWNSVILLE, La. /eNewsChannels/ -- NEWS: Fatheree for BESE Campaign announced in Louisiana. Johnny Fatheree was born and reared on the Southside of Monroe, Louisiana and currently resides on Lake D' arbonne in Union Parish. He graduated from Ouachita Parish High School in 1971, and attended Northeast Louisiana University (now ULM) for a brief time.
METAIRIE, La. /eNewsChannels/ -- NEWS: 'Monday brought some reports of more hail near the Louie Armstrong International Airport and the reports of hail and high winds reaching 111 MPH extended from the airport to the causeway bridge, just east of the city limits,' says Michael Sims Sr., of American Roofing and Building Supply.
NEW ORLEANS, La. /eNewsChannels/ -- NEWS: On a day already associated with bad imagery and taxes - April 15 - golf ball sized hail was reported near New Orleans, La. Melissa Henriquez, exterior design specialist with American Roofing and Building Supply in Metairie, La., said, 'The golf ball sized hail that hammered the area in Garyville, LaPlace and larger hail that battered Kenner, Metairie and New Orleans is something that is becoming a far too common occurrence in spring and early summer storms.'
NEW ORLEANS, La. /eNewsChannels/ -- NEWS: David Nour, enterprise growth strategist, and thought leader on Relationship Economics, will be presenting the keynote address at the 2015 ProfitStars Educational Conference and Technology Showcase (PEC) on March 17, 2015 at the Hyatt Regency in New Orleans.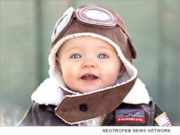 NEW ORLEANS, La. /eNewsChannels/ -- NEWS: Louisiana non-profit, Drew's Tunes Foundation, is proud to announce that Governor Bobby Jindal has proclaimed March as Sudden Unexplained Death in Childhood (SUDC) Awareness Month in the State of Louisiana. This proclamation is the first of its kind in the southern United States for Sudden Unexplained Death in Childhood, which is a diagnosis of exclusion impacting around 200 toddlers each year in United States.