Ohio Business News, Entertainment, and Technology News (U.S.)
eNewsChannels NEWS: (TIPP CITY, Ohio) -- Earth Day may be observed just one day a year, but Energy Optimizers, USA, is helping the Tri-Village and Trotwood-Madison school districts lead the charge on earth- and resource-friendly practices every day by sponsoring the districts' Green Teams.
eNewsChannels NEWS: (YOUNGSTOWN, Ohio) -- Black Streak Entertainment, LLC has developed a new mobile cooking app that has changed the way kids and families cook, eat, and view food called the Black Streak Kitchen App. Through this app, the company publishes recipes in the form of comics featuring their original characters that teach kids, teens, parents and families about cooking, nutrition, world cultures, health and wellness.
eNewsChannels NEWS: (TIPP CITY, Ohio) -- AEP Ohio has granted Energy Optimizers, USA, the Most Savings Achieved in 2016 award for the company's outstanding performance and contributions to AEP Ohio's energy efficiency programs.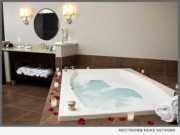 eNewsChannels NEWS: (PERRYSBURG, Ohio) -- Belamere Suites Hotel today announced it has been recognized as the overall winner in the Romance category of the 2017 TripAdvisor Travelers' Choice(TM) awards for Hotels, ranking #1 in America. In the 15th year of the awards, TripAdvisor has highlighted the world's top properties based on the millions of reviews and opinions collected in a single year from travelers around the globe.
eNewsChannels NEWS: (TIPP CITY, Ohio) -- Trotwood-Madison City Schools has saved more than $266,000 on its energy costs just one year after completing a sweeping energy management project with Energy Optimizers, USA. Electric usage is down by more than 30 percent and gas consumption by 20 percent following upgrades to the lighting, building controls and air filtration systems at all six of the district's buildings.
eNewsChannels NEWS: (TIPP CITY, Ohio) -- Trimble Local Schools will soon see a substantial savings in its monthly utility bills following an agreement with Energy Optimizers, USA, to overhaul all lighting and improve the district's HVAC controls.
eNewsChannels NEWS: (TIPP CITY, Ohio) -- Two elementary schools in the New Richmond Exempted Village School District have received recognition as energy all-stars after attaining the coveted U.S. Environmental Protection Agency's Energy Star certification with the assistance of Energy Optimizers, USA and SHP Leading Design.
eNewsChannels NEWS: (CLEVELAND, Ohio) -- Schmidt Mortgage Company (Schmidt) Executive Vice President Jeffrey Steed announced today the addition of John Kulka as manager of new business development. A 25-year mortgage industry veteran, Kulka brings considerable experience in cross-selling mortgage products across related industries, affinity marketing and retail mortgage lending.
NEWS (CINCINNATI, Ohio) -- It's the world's largest waterless pool party, and it happens Saturday, September 24, 2016 at historic Cincinnati Coney Island Amusement Park on the banks of the Ohio River. The empty-pool party is part of a super-charged end-of-summer fan favorite at Coney Island - Fire Up the Night V, the USA's ONLY international fireworks competition, presented by Rozzi Famous Fireworks.
NEWS (ASHLAND, Ohio) -- Hedstrom Fitness now offers an even broader product line using the physics of water! The Kamagon(R) Ball and The Surge(R) are now available in a variety of color and size options. The Kamagon(R) Ball's patented, Hydro-Inertia(R) Technology uses water as a destabilizing weight.