Pop Culture News, Cool Stuff, Offbeat and Unusual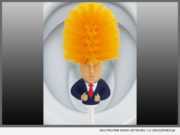 eNewsChannels NEWS: -- Michelle Rubel, owner of SpacedOutDesigns and the inventor and creator of Commander in Crap(TM), is helping make toilets great again(TM) with her viral invention, a Donald Trump toilet brush that American and international customers are gladly grabbing to clean up their crap.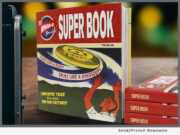 eNewsChannels NEWS: -- Wham-O, the iconic all-American recreational toy brand, will release a new commemorative book marking the 70th anniversary of the company. The book, entitled "SUPER BOOK - Fantastic Tales From Inside The Fun Factory" (ISBN: 978-0692163054), takes readers on a journey through the innovation and imagination that led to the creation of some of the world's most inventive, beloved toys and games that every family has played with for the last 70 years.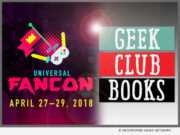 eNewsChannels NEWS: -- The inaugural Universal FanCon 2018 is the first large-scale, 24-hour, inclusive event that celebrates the diversity of fans, the diversity of fandom and the true needs of those who love pop culture. This year's event will help benefit and promote relevant causes, including Geek Club Books Charity for Autism. Coming to Baltimore, Maryland, April 27-29, 2018.
eNewsChannels NEWS: (SEVIERVILLE, Tenn.) -- Dark Horse Comics and Prestige Imports LLC has selected XXX Distillery LLC's two locations to produce Hellboy Hell Water Cinnamon Whiskey. "We selected these craft distillers based on product quality, production capability and great tasting cinnamon whiskey," says Tom Cleaver, Prestige Imports LLC founder.
eNewsChannels NEWS: (LAS VEGAS, Nev.) -- A newly discovered piece of Andy Warhol History is up for sale by The Metallic Art Gallery on eBay. It shows the great artist's name as Andrew Warhola in a student honor roll document deserving of an Honorable Mention for his performance in his first semester of the ninth grade at Schenley High School in Pittsburgh.
eNewsChannels NEWS: (CHICAGO, Ill.) -- A host of famous mediums, psychics, ghost hunters, authors and more will gather January 28, 2017 for Chicago Hauntings' annual "Dead of Winter" paranormal seminar at the Plum Tree National Golf Resort in Woodstock, Illinois. Guest star, Chris Fleming of the Travel Channel's smash hit, "Ghost Adventures."
eNewsChannels NEWS: (SAN BERNARDINO, Calif.) -- Local celebrity Vincent Ayon aka 'Invinceable,' the publisher of Phat Inc. Magazine, is once again donning his Santa hat. With the support of Subaru of San Bernardino, the former hip hop artist proudly presents his 4th Annual Red Carpet Toy Drive.
eNewsChannels NEWS: (LAS VEGAS, Nev.) -- A nine-foot-tall trophy featuring a large gold and sienna head of Donald J. Trump on a gilded plinth is scheduled to be dedicated in Las Vegas next month before the election. The monumental statue, believed to be the World's Largest Participation Trophy, in honor of Donald Trump's presidential run, was sculpted by the commissioned artist Daniel Edwards. The dedication is scheduled for November 4, 2016 announces Cory Allen Contemporary Art.
eNewsChannels NEWS: (LOS ANGELES, Calif.) -- Controversial music and visual artist NEO 10Y today released a three-part concept film depicting the death of presidential candidate Donald Trump. The six minute documentary style film "NEO 10Y vs. NIHIL: The Kid That Killed Trump (A Concept Film)" shows the story of a drug forlorn Times Square Mickey Mouse impersonator convincing Donald Trump to end his life. (NSFW)
ST. PETERSBURG, Fla. /eNewsChannels/ -- NEWS: Teenage artist Rodman Edwards' protest against Bill Cosby for misrepresenting his TV characters and their messages is proposed as a nude statue of Cosby's Dr. Cliff Huxtable from 'The Cosby Show' to 'replace' the busts of the legendary performer displayed in front of the Academy of Television Arts and Sciences Halls of Fame. The Dr. Huxtable sculpture created by Edwards, is being unveiled by Cory Allen Contemporary Art.