LANDOVER, Md. — SecurWireless, Inc., provider of wireless video surveillance solutions for government, state and local, and commercial applications, has named NWStealth, a division of Full Blast Technologies Inc, to its newly launched SecurVAR program. As the program's first Value Added Reseller, NWStealth is the first to receive marketing and sales advantages that enable them to offer best of breed wireless surveillance products for force protection, physical security, and other surveillance solutions to their premier clients.
"NWStealth is addressing key problems in the security industry in intel, special ops and law enforcement markets," said Corby Lawrence, SecurWireless President and CEO.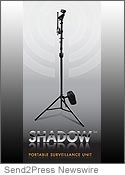 "Our technology enables security personnel to get critical data, such as video, alarms, and alerts, while they're on the move, and where there are gaps in coverage, or where infrastructure simply does not exist. NWStealth's intimate understanding of their clients needs, along with their ability to enhance our solution, gives their clients additional data points and mobility that brings yet another level of effectiveness and efficiency to a security operation."
"NWStealth field expertise and SecurWireless products and solutions together are a natural fit for security in multiple markets," said Dennis Carroll, President and CEO NWStealth. "NWStealth has considerable experience in technical operations, surveillance and security. We look forward to working with SecurWireless to replicate and extend this success in military and public safety. Our companies are compatible and complementary, customers of either company will receive tremendous value by integrating both company's solutions into their current security infrastructure, as well as future plans."
About NWStealth (www.NWStealth.com)
NWStealth, a division of Full Blast Technologies, Inc., is located in Washington State. Full Blast has been in the security and surveillance business for 35 years. Before Full Blast, company officers, then serving as government staffers, conducted Technical Operations. Later, as COTRs the same principals designed and produced devices that were required but didn't exist earlier. Today, Full Blast is committed to making the same things happen from the contractor side. Having addressed surveillance technology from every angle, Full Blast has a good idea of what users need and how to satisfy those requirements.
About SecurWireless (www.SecurWireless.com)
SecurWireless, Inc., headquartered in Landover, MD, is a high technology product and services company that provides affordable, rapidly deployable and easily maintained wireless infrastructure systems specifically for video and other surveillance applications. The company's roots stem from meeting Military requirements for highly reliable, rapidly deployable, rugged mobile wireless perimeter surveillance to support the Global War on Terrorism.
SecurWireless continues to meet these demands and has leveraged its experience to provide other government and public safety agencies with the same capabilities. Having to install thousands of yards of cable or fiber infrastructure for video is costly and time consuming. Threats are here today and professionals need surveillance now, not after months or years of planning and spending millions of dollars. SecurWireless' technologies meet this need and more importantly the systems are open and interoperable for expandability to meet the threats of tomorrow.
[tags]wireless surveillance products, SecurWireless Inc, NWStealth Full Blast Technologies[/tags]