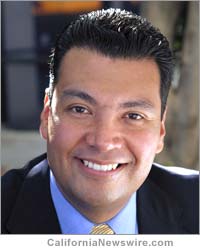 SACRAMENTO, Calif. /California Newswire/ — The State Senate on Tuesday approved SB 1108 on a unanimous, bipartisan vote of 39 to 0. Authored by Senator Alex Padilla (D-Pacoima), SB 1108 would reform the English Learners reclassification system by identifying and implementing uniform statewide best practices. The bill now moves to the State Assembly for consideration.
Specifically, SB 1108 requires that by January 1, 2014 the California Department of Education (CDE) review and analyze the criteria, policies, and practices that local school districts use to deem English Learner students proficient and reclassify them into mainstream classes. In addition, it calls on the Department to recommend to the Legislature and the State Board of Education any guideline, regulation or statutory changes necessary to improve the English Learner reclassification system.
"Our current system of educating English Learners is too often an afterthought. Only 11 percent of English Learners achieve fluency each year. Some students become 'Long Term English Learners' and never achieve fluency. That is unacceptable. Academic success and college readiness hinge on English proficiency," said Senator Alex Padilla.
English Learners make up more than one-quarter of the k-12 student population in California. 1.5 million California students are English Learners. More than 85 percent of English Learners come from families who live in poverty.
"English proficiency opens doors of opportunity and it directly impacts the economic sustainability of our state," said Senator Padilla. "English Learner students are California's future. We must do everything we can to ensure their academic success," Padilla added.
Annually,
* only 11 percent of English Learners reach English proficiency,
* only 56 percent of English Learners graduate from high school,
* only 13 percent of English Learners go to college.
As Chair of the Select Committee on English Learners, Senator Padilla has held a series of policy hearings focused on how to improve the English Learner system within the context of Governor Brown's proposal to change the k-12 funding formula to a "weighted" student formula.
Senate Approves Bill to Expedite Dismissal of Problem Teachers:
Additionally, With an overwhelming, bipartisan vote of 33 – 4, the California State Senate on Tuesday approved SB 1530 authored by Senator Alex Padilla (D-Pacoima). The bill would modify the dismissal process in cases where a teacher has been accused of sex, violence or drug offenses involving children. The bill now moves to the State Assembly for consideration.
"SB 1530 would empower school boards to act decisively to protect children while maintaining important due process rights for California teachers," said Senator Padilla.
"Every parent should have confidence that their local school will be a safe and nurturing environment for their children. Because a school board is ultimately responsible for ensuring a safe learning environment, the school board should be empowered to dismiss employees they determine to be a serious threat to the health and safety of students," said Padilla
Under current law, certificated personnel can appeal a dismissal by a school board to a panel that includes an administrative law judge and two teachers. SB 1530 would expedite the dismissal process and empower school boards to make the final decision. The bill also maintains due process by allowing a teacher to present his/her defense, to be presented by counsel, to require disclosure and to present witnesses. The teacher would also be able to request a hearing by an independent arbiter.
Key provisions of SB 1530 would:
* require that in cases of sex, violence or drugs offenses involving children, the appeal hearing be heard by an Administrative Law Judge with authority to render a recommendation to the school board
* empower the school board to make the final decisions on dismissal
* allow school boards to place employees on unpaid leave after a motion of dismissal of the employee
* eliminate prohibition of dismissals during the summer months
* allow evidence older than 4 years to be considered.
Padilla Bill to Require Translation of Ballot Initiatives and Petitions Approved by State Senate:
Senate Bill 1233 authored by Senator Alex Padilla (D-Pacoima) was approved by the State Senate today. SB 1233 would require the Attorney General to issue a title and summary of all ballot initiatives and petitions in all languages covered by the Federal Voting Rights Act for circulation. The languages covered by the legislation include Spanish, Chinese, Vietnamese, Japanese, Korean, and Tagalog. The bill now moves to the State Assembly for consideration.
"Providing ballot initiative petitions in the appropriate language will allow limited English proficient voters to become fully engaged in the democratic process," said Senator Alex Padilla. "By failing to provide language appropriate ballot initiative petitions, thousands of voters are not fully informed about petitions when deciding to sign or not sign," said Senator Alex Padilla.
According to the Migration Policy Institute as of 2009, 58.7 % of California's foreign born population was Limited English Proficient (LEP) and 46.5% of naturalized citizens age 5 and older were LEP. Among the foreign born, 74% of those who spoke Spanish at home were LEP and 57.5% of those spoke Asian and Pacific Island languages were LEP.
The Federal Voting Rights Act of 1965 mandates that a state or political subdivision provide language assistance to voters if more than five percent of voting age citizens are members of a single-language minority group and do not "speak or understand English adequately enough to participate in the electoral process." Additionally, it protects the rights of LEP voters by providing language accessible election materials.
Senator Alex Padilla, 39, graduated from MIT with a degree in Mechanical Engineering. He currently serves on the Board of MIT. He is Chair of the Senate Energy, Utilities and Communications Committee and represents the more than 900,000 residents of the 20th State Senate District which includes most of the San Fernando Valley in Los Angeles.

Information based on submitted press releases and is believed accurate but is not guaranteed by CaliforniaNewswire.com.