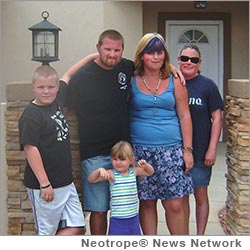 LAS VEGAS, Nev. /eNewsChannels/ — Today, Professional Community Management of California, Inc. (PCM) announced that employee Jeremy Blakely built and moved his family into a new home in Mesquite, NV. The project was through Mutual Self Help by Color Country Community Housing (CCCHI), in partnership with the USDA Rural Development Agency. Blakely works in the facilities department at Sun City Mesquite, which is managed by the company.
"PCM is very proud of Jeremy's accomplishment," said Randy Watkins, vice president of PCM Nevada. "From start to finish, Jeremy and five other families invested sweat equity into their new homes."
Sunrise Meadows is the first Mutual Self Help project for Color Country Community Housing in the State of Nevada. Participants undergo an intensive credit qualification process and are then trained by skilled staff to perform various tasks needed to complete their new homes.
Color Country Community Housing is currently building new homes in partnership with low-income families throughout various areas of Southern Utah and Nevada. Six to eight families work together as a group and provide approximately 65 percent of the labor. This labor not only acts as the down payment, but can reduce the price of the homes by as much as 25 percent. There may be additional assistance available for qualified families, such as a mortgage with a reduced interest rate, keeping the monthly house payments affordable.
"This was a great opportunity for my family to live and work in a safe and beautiful community," said Blakely. "My colleagues at PCM have been so supportive during this process."
Blakely has worked at Sun City Mesquite for nearly two years.
"People like Jeremy are the kind of committed, industrious and resourceful individuals who make up the PCM family," said Donny Disbro, chief executive officer of PCM. "We commend him for his devotion to his family and community."
About Professional Community Management of California, Inc.:
Professional Community Management of California, Inc. (PCM), an Associa company, specializes in the management of Common Interest Developments of homeowner associations for family oriented master-planned developments, resort-style master-planned communities, active-adult master-planned communities, condominium associations and boutique communities throughout Southern California and Southern Nevada.
With headquarters in Lake Forest, Calif., PCM and its companies employ a staff of more than 1,500 people. PCM has offices in serving all of Southern California and Southern Nevada and is recognized by the Multi Housing Council as one of the country's largest managers of common interest developments. Management services by PCM are backed by state-of-the art Internet technology and comprehensive financial and management systems. For additional information, please contact PCM at 800.369.7260 or at http://www.pcminternet.com/ .
About Associa:
Building successful communities for more than 30 years, Associa is North America's largest community association management firm and serves its clients with local knowledge, national resources and comprehensive expertise. Based in Dallas, Associa and its 8,000 employees operate more than 150 branch offices in the United States, Mexico and Canada. To learn more about Associa and its charitable organization, Associa Cares, go to www.associaonline.com and www.associacares.com.
Copyright © 2012 Neotrope® News Network – all rights reserved.