TORONTO, Canada — iPod touch 2G owners now have their choices of fun, fashion and function to guard their beloved touch: the iSkin touch Vibes and iSkin touch Duo. The iSkin touch Vibes delivers the complete protective benefits of a durable soft case, adds an ultra-clear screen film and protective docking port insert, and wraps it up in a rich color finish lightly accented with a unique inner pattern that shimmers. The result is everyday protection against everyday hazards in a fun, stylish and fashionably aware bodyguard. Also featuring an included adapter for the Apple Universal Dock, the iSkin touch Vibes is available in Reflex (blue), Blaze (red), Carbon (black), Rave (purple) and Pure (clear), and retails now at www.iskin.com for $29.99US.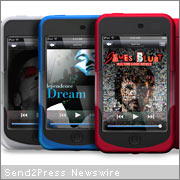 Taking its design inspiration from the highly successful iSkin revo for iPhone, the iSkin touch Duo's premium quality silicone hugs the iPod touch 2G's subtle curves to help guard against everyday hazards such as impact, dirt, moisture and more, while built-in Microban(R) antimicrobial protection helps inhibit the growth of odor and stain causing bacteria on the product.
Surrounded by a specially-coated surface texture that feels secure and offers a confident, firm grip, the iSkin touch Duo arrives with optical clear-coated scratch resistant ViSOR screen guard, an anti-glare and anti-fingerprint screen film, and integrated docking port protection. The iSkin touch Duo is available in four dual-tone color options: Diablo (red/black), NightHawk (expresso/black), Sonic (blue/black) and Ozone (frosted clear/black), and retails now at www.iskin.com for $34.99US.
About iSkin Inc.
Home of the exceptionally popular and award-winning "iSkin" iPod fashion+protection package, iSkin Inc. designs and delivers an inspired line of accessories, enhancements and solutions for the thriving Digital Lifestyle marketplace. As a raving fan of everything cool in the world of Apple and beyond, iSkin gives its customers around the world an unmatched blend of design, technology, quality, fashion, selection and service.
[tags]iSkin touch Vibes, iSkin revo for iPhone, ipod accessories[/tags]