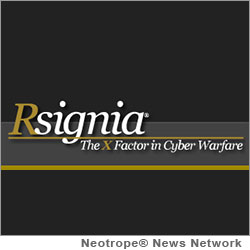 COLUMBIA, Md. /eNewsChannels/ — Rsignia, Inc. today announced the launch of a new Cyber Command and Control Simulation Center at its headquarters and their new alliance with RGB Spectrum in support of the new Center. The Companies together have established a unique media immersive environment specific to cyber command and control.
The Center is an integral resource that intelligently project real Cyber Command and Control environments, simulating real-world, hands-on solutions to the military, cyber security professionals and similar audiences within this field. The Center was made possible with the alliance between the two companies in addition to capabilities facilitated with Digital Projection, Inc.
Mr. Mitch Klein, of RGB Spectrum stated, "We have a longstanding relationship with Rsignia and this collaboration effort is an operative way for us to introduce our latest dynamic data visual processor technology utilizing Rsignia's intelligence capable gathering tools. Our sophisticated technology offers real-time visual processing, providing the ability to visualize disparate sources with no latency or screen artifacting, that support mission critical applications where high resolution signal quality is required to make real time operational decisions. Our solutions offer the ability to visually integrate various dynamic sources and instantly 'freeform' window them to compare, contrast, and analyze such data."
According to both organizations, the Cyber Command and Control Simulation Center will be fully operational in mid June, 2012. The hands-on events will be hosted and managed by both companies. The alliance enables the companies to market their respective offerings to customers worldwide.
"In order to visualize the rich data and new modes of communications we're looking at and the need to have multiple views to look deep within the multiple simulated nests of information we gather, we concluded RGB Spectrum was hands-down the only solution able to provide the latest in human intelligence visualization technology," said Ed DiGiulian, Manager of Visualization Systems at Rsignia, Inc.
"We have a long history with RGB and this collaborative effort will strengthen our relationship and further enhance our respective product offerings posture," added John Travlos, Jr, VP Information Assurance & Cyber Awareness at Rsignia, Inc.
About RGB Spectrum:
RGB Spectrum has established itself as a leading designer and manufacturer of cutting-edge videographic products for audio-visual, industrial, and military applications. With advanced capabilities, proven reliability, and flexible user interfaces, RGB Spectrum's products are preferred by a "Who's Who" list of the world's major industrial, medical, military, entertainment, and academic organizations.
About Rsignia:
Rsignia is a leading provider of cyber security solutions and services including detection, mitigation, countermeasures, and forensics. In support of National Cyber Security Initiatives, Rsignia is developing some of the most innovative next generation cyber and forward thinking capabilities available to the marketplace today. Embracing the new cyber warfare paradigm, their long-standing relationships with United States government agencies, and growing commercial base has positioned the company at the forefront of the rapidly growing cyber market.
More information: http://www.rsignia.com .
Copyright © 2012 Neotrope® News Network – all rights reserved.