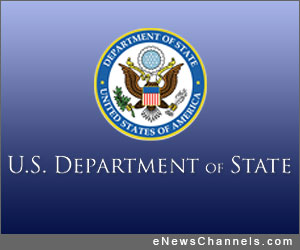 WASHINGTON, D.C. /eNewsChannels/ — Solve for X, an initiative of Google[x], hosted a session on May 13 in collaboration with STAS and the U.S. Agency for International Development's Office of Innovation and Development Alliances (IDEA) that encouraged moonshot ideas – radical technology-based proposals for solving global problems – and highlighted diasporans from MIT Technology Review's Innovators Under 35. During an interactive session, attendees developed recommendations on how the innovators could continue pushing forward their new ideas.
The Office of the Science and Technology Adviser to the Secretary of State (STAS) coordinated sessions, May 13-14, focused on science and engineering diasporas in partnership with Networks of Diasporas in Engineering and Science (NODES) during the 2013 Global Diaspora Forum in Washington, D.C.
Faculty from Harvard University, Colorado State University, and Northwestern University led a workshop on STEM (science, technology, engineering, and math) Diasporas, with breakouts on forming collaborative networks, sharing success stories, and identifying mechanisms for NODES to promote women in STEM. The U.S. National Academy of Sciences led a session, "Diaspora Collaboration Among Early-Career Researchers," which explored the challenges faced by research institutions and the American and international postdoctoral community in the United States and abroad.
On May 14, STAS organized a panel, "Science Diasporas Leading Action: From Campus to Society," with representatives from the Global Innovation Summit, Larta Institute, Boston University, and the African University of Science and Technology, which discussed how science diasporas connect back to their countries of origin and to other diaspora groups to advance global science and economic growth.
These science and engineering diaspora engagements were held as part of the third annual Global Diaspora Forum in Washington, D.C., May 13-14, organized by the Department of State's Global Partnership Initiative (GPI) and IDEA. Learn more about the Forum at www.diasporaIdEA.org. These sessions followed previous NODES engagements at the 2013 American Association for the Advancement of Science (AAAS) Annual Meeting in Boston and the 2012 Global Diaspora Forum. The next NODES engagement will be at the 2014 AAAS Annual Meeting in Chicago in February 2014.
NODES is a joint effort among the U.S. Department of State, AAAS, the National Academy of Sciences, and the National Academy of Engineering to support science and engineering diaspora networks. For more information about NODES, please visit: diplomacy.aaas.org/diaspora.