The Sphinx Laureates at Carnegie Hall Presented by JPMorgan Chase
NEW YORK, N.Y. — Approximately 25% of Americans are Black or Latino. In our nation's professional orchestras however, Blacks and Latinos combined comprise approximately 4% of the musicians. On September 25, The Sphinx Organization, the non-profit organization dedicated to building diversity in classical music, will present the all Black and Latino Sphinx Chamber Orchestra and Harlem Quartet at Carnegie Hall.
The Harlem Quartet is an ensemble comprised of 1st place Laureates of the Sphinx Competition for young Black and Latino String Players. In addition, several outstanding Laureates of the Sphinx Competition will perform as soloists. The Sphinx Laureates concert will be held on September 25, 2007, at 6:00 p.m., on Carnegie Hall's Perelman Stage in the Stern Auditorium. The annual concert series at Carnegie Hall is made possible by a one million dollar grant from JPMorgan Chase Foundation.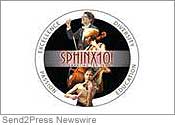 The Sphinx Chamber Orchestra, comprised of top Sphinx Competition alumni, will perform under the direction of Maestro Chelsea Tipton II. Maestro Tipton, a sought-after guest conductor, is Resident Conductor of the Toledo Symphony Orchestra. He has appeared with major orchestras in the United States, including the Chicago, Detroit, Atlanta, and New World Symphony Orchestras, the Boston Pops Orchestra, and the Brooklyn and Rochester Philharmonic Orchestras.
The Sphinx Organization's annual Carnegie Hall concerts present young Black and Latino string players of exceptional talent. The New York Times has described past performances as "…first rate in every way," and "virtuosic."
Violinists Elena Urioste, Clayton Penrose-Whitmore, Robert Switala, Maia Cabeza, and cellist Tahirah Whittington will perform as soloists. Elena Urioste, the First Place Laureate of the 2007 Sphinx Competition, returns to Carnegie Hall after recent performances with the Boston Pops and the National, Atlanta and Detroit Symphony Orchestras. She is the only player ever to win both the junior and senior divisions of the Sphinx Competition. Fourteen-year-old Robert Alvarado Switala, the junior division winner of the 2007 Sphinx Competition, makes his Carnegie Hall debut.
Inspired by Sphinx's artistic mission, the concert program will offer standard repertoire along with masterpieces by Black and Latino composers. The works of J.S. Bach, Coleridge-Taylor Perkinson, Astor Piazzolla, Joaquín Turina and Duke Ellington will be featured. The Harlem Quartet will premiere an arrangement of Michael Abels' Delights and Dances arranged by Abels, a leading Black composer. The Sphinx Organization commissioned Delights and Dances and premiered the piece in 2007 to celebrate its tenth anniversary.
Sphinx's Founding President, Aaron P. Dworkin stated, "The significance and value of the Carnegie Series is immeasurable as it represents not only the incredible performance opportunity for young musicians, but also, a strong impact on diverse audiences by exposing them to the highest level of artistry reflected within communities of color." Dworkin founded Sphinx in 1996 while a student at the University of Michigan. His work with Sphinx has been recognized with a coveted MacArthur Fellowship among many other honors.
Tickets for the concert are $20 and available through the Carnegie Hall Box office at 212-247-7800 or www.carnegiehall.org. Groups of 10 or more can receive a discounted rate by calling 212-903-9705. VIP and Box Seat tickets are available through the Sphinx Organization by calling 646-429-1987 x701.
The Sphinx Organization is the national non-profit arts and youth development organization committed to building diversity in classical music. The mission of the Sphinx Organization is to increase Black and Latino participation in music schools, as professional musicians, as classical music audiences, and to administer youth development initiatives in underserved communities through music education.
For additional information, call Sphinx at 646-429-1987 or visit http://www.sphinxmusic.org.
[tags]building diversity in classical music, Black and Latino Sphinx Chamber Orchestra, Harlem Quartet at Carnegie Hall, The Sphinx Organization[/tags]