Home
Tags
American Roofing Supply
Tag: American Roofing Supply
METAIRIE, La. /eNewsChannels/ -- NEWS: 'Monday brought some reports of more hail near the Louie Armstrong International Airport and the reports of hail and high winds reaching 111 MPH extended from the airport to the causeway bridge, just east of the city limits,' says Michael Sims Sr., of American Roofing and Building Supply.
NEW ORLEANS, La. /eNewsChannels/ -- NEWS: On a day already associated with bad imagery and taxes - April 15 - golf ball sized hail was reported near New Orleans, La. Melissa Henriquez, exterior design specialist with American Roofing and Building Supply in Metairie, La., said, 'The golf ball sized hail that hammered the area in Garyville, LaPlace and larger hail that battered Kenner, Metairie and New Orleans is something that is becoming a far too common occurrence in spring and early summer storms.'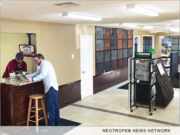 METAIRIE, La. /eNewsChannels/ -- NEWS: Louisiana's American Roofing Supply will be the only family owned roofing supply company from the greater New Orleans area to have an exhibition booth at the International Roofing Exposition held at the Ernest N. Morial Convention Center February 24-26, 2015.
METAIRIE, La. /eNewsChannels/ -- NEWS: American Roofing Supply (ARS) has relocated and kicks off its grand opening February 2, 2015 at its new showroom and warehouse at 2009 Hullen St. in Metairie. We have doubled the size of our showroom and created an attractive design center which is very home owner and contractor friendly.