Home
Tags
Books and Publishing
Tag: Books and Publishing
eNewsChannels NEWS: -- Photographer Erica Reade announced today the kickoff of her fundraiser campaign "Beach Lover: a NYC Summer Love Story." The photographic series about love and intimacy will be turned into a book that will offer nostalgic and candid images of the love shared between couples at the beaches of New York City.
eNewsChannels NEWS: -- Author Brian J. Sheen's new book, "Relentless, Rescuing My Daughter from Scientology, an Illustrated Story," (ASIN B091P673ZX) is the struggle of a father and newly pronounced grandfather, attempting to get state and federal officials to preserve the sanctity of his family from the Church of Scientology, Quan Publications announced.
eNewsChannels NEWS: -- Author and activist Samantha Joule Fow, CEO of Denver-based Axiom Communications, Inc., has published a groundbreaking new book that reveals how anyone and everyone concerned about the environment can use green technology to help address everything from litter to extinction. "Be Decent: Environmental Activism 2.0" (ISBN: 978-1735682815) is available now.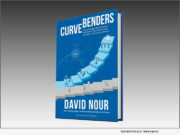 eNewsChannels NEWS: -- On the heels of his successful podcast of the same name, "CURVE BENDERS," Leadership Advisor and Executive Coach, David Nour will release his 11th book April 27, 2021 and offering leaders at a strategic crossroads insight on how to capitalize on their strategic relationships.
eNewsChannels NEWS: -- "The Leafwing" (ISBN: 978-0981660233), by author Deborah Copeland, is a new YA fantasy novel that is making waves on the YA Fantasy charts. With a book trailer that lives up to the high-intensity drama and mythological thrill as the novel, it certainly is a great fantasy book to immerse yourself in.
eNewsChannels NEWS: -- Launch Pad Publishing is releasing a groundbreaking new book about health, energy and longevity by biochemist, Registered Dietitian, sports nutritionist and formulation scientist Shawn Wells. The author's experiences overcoming a range of personal health battles led to the writing of the book, which supplements scientific research with his own personal experiences.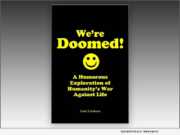 eNewsChannels NEWS: -- Azaria Press has released "WE'RE DOOMED! A Humorous Exploration of Humanity's War Against Life." Award-winning humor writer Scott Erickson turns his attention to the most humorous issue of our time: Humanity's impending self-destruction!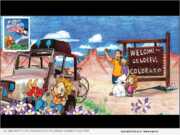 eNewsChannels NEWS: -- "Eli and Mort's Epic Adventures Colorado Summer Road Trip" by Elyssa Nager provides a captivating outlet for families interested in a Colorado road trip. The book, published by Resort Books Ltd, is ideal for children aged 3 to 12, brings to life favorite places to visit across the Mile High State.
eNewsChannels NEWS: -- Sidekick Services Corporation has published a new book titled "The Theory of Personality," subtitled "The Three Of Us," which identifies an ancient belief that all of us are born with three individual personalities.
eNewsChannels NEWS: -- Sugarpeel announces newest Deliberately Considerate™ digital publication recognizing people trying to change the world for the better, featuring Native American Oren Lyons, Faithkeeper of the Onondaga Nation and international advocate for our Mother Earth, and Indigenous rights.