Home
Tags
Books and Publishing
Tag: Books and Publishing
eNewsChannels NEWS: -- The time has come! Greg Lindberg, entrepreneur, philanthropist, author and wellness advocate, publishes transformational anti-aging book titled "LIFELONG: Quantum Biology, Anti-Aging Science and the Cutting-Edge Program That Will Transform Your Body and Mind" (ISBN: 979-8866425266; paper). The book is now available on Amazon worldwide.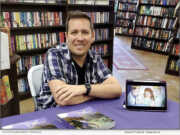 eNewsChannels NEWS: -- "Love Without Wings: An Adoption Fairytale" (ISBN: 979-8986768045), was released one year ago and now it's also available as a read-along videobook narrated by Rayyah McCaul with an original music score by Sleeps Under Beams. The author, Adam Swain Ferguson, founder, Purple Fox Entertainment, says that the book and its video adaptation were imagined to magically introduce the subject of adoption to his son, and to celebrate diverse families made complete through adoption.
eNewsChannels NEWS: -- Fiercely independent author K.R. Butt has unveiled her thought-provoking book, "Unarmoured: PTSD Affects Us All" (ISBN: 978-0228869566; August, 2023). In this compelling work, Butt takes readers on a journey through the life of Norah, a young flight attendant, as she delves into the world of online dating in search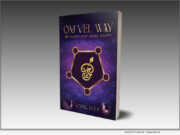 eNewsChannels NEWS: -- Author Seval Seer has unveiled an enlightening book, "Om Vel Way: Be Happy and Make Happy," (IBSN: 978-1779410658; Nov. 2023) which delves deep into the essence of human existence and the pursuit of true happiness. With a focus on the theme "Be Happy and Make Happy," Seval Seer's book offers a powerful and insightful perspective on the human journey.
eNewsChannels NEWS: -- Legacy Launch Pad Publishing proudly presents "Sustainability in the Air: The Innovators Helping the Aviation Industry Take Climate Action" (ISBN: 978-1-956955-80-4 [ebook]; 978-1-956955-81-1 [paperback]), co-authored by Shashank Nigam and Dirk Singer, respectively the Founder & CEO and the Head of Sustainability of aviation consulting firm SimpliFlying.
eNewsChannels NEWS: -- A message of hope coming through the veil from those who have passed over, and from the Divine Spirit who is guiding us into this new future. In Dr. Mark W. Burns' current book, "A Light Amongst the Stars" (ISBN: 978-0228893684; July, 2023), he questions: What if humanity has passed an important milestone and the message of doom, proposed by so many for so long, is now wrong?
eNewsChannels NEWS: -- Local Naples company Bajek Publisher Services has helped high profile independent authors make it big. The company will be headed to the Frankfurt Book Fair, the world's largest book trade show, this fall as it celebrates its fourth-year in business.
eNewsChannels NEWS: -- Amal Indi, a seasoned Solutions Architect with over two decades of experience in the financial sector, has unveiled his profound journey to unlock genuine happiness and inner peace in his latest book, "Happiness Mountain - Make every experience a happy experience" (ISBN: 978-1734068740; October 2023).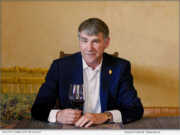 eNewsChannels NEWS: -- Master Sommelier Tim Gaiser has released an updated version of "Message in the Bottle: A Guide to Tasting Wine" (ISBN: 978-1955750479). The book is a valuable resource for professional tasters, as well as an outstanding guide for the casual enthusiast who wants to learn more about how to appreciate a glass of wine.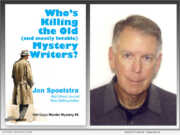 eNewsChannels NEWS: -- Marketing guru, Jon Spoelstra, has always had a penchant for pushing the outrageous. He wrote "Marketing Outrageously," a Wall Street Journal bestseller, and now he's at it again. This time he's written a series of mystery novels for what he calls "old guys" in the "Old Guys Murder Mystery Series." This fifth novel in the series, "Who is Killing all the Old (and mostly lovable) Mystery Writers?" (ASIN: B0C5S1ZP9M) is scheduled to publish on November 7, 2023.