Home
Tags
California Business
Tag: California Business
eNewsChannels NEWS: -- The stories are endless of jobs suddenly gone forever and families struggling to get by. As cities across the nation continue to deal with the economic fallout from the COVID-19 pandemic, employees at CDF Labor Law LLP (CDF) got busy partnering with food banks and programs aimed to get food into the hands of hungry communities.
eNewsChannels NEWS: -- When master visual artist Bernard Stanley Hoyes was first appointed to create an outdoor stainless-steel sculpture for the Kingston Restoration Walking Museum Project in Jamaica, it was before Covid. The project, sponsored by the Kingston Restoration Company and the Duke Street Refurbishing Project and funded by the Tourism Enhancement Fund was a heartfelt assignment for Hoyes, a native of Jamaica and longtime resident of California.
eNewsChannels NEWS: -- NotaryCam®, a Stewart-owned company and a pioneering provider of remote online notarization and identity verification / authentication technology for real estate and legal transactions, today announced it has partnered with RUTH RUHL, P.C., a Texas-based law firm, to add security and automation to the firm's loss mitigation services through remote online notarization (RON).
eNewsChannels NEWS: -- The Town & Country Life Plan Community announces the grand opening of Grace Gardens, a $25 million memory care community featuring one of the largest outdoor garden courtyards in Orange County. The nonprofit community offers residency for approximately 80 residents with Alzheimer's and dementia in four distinct neighborhoods.
eNewsChannels NEWS: -- Protecting the most basic human right of all, the right to life, South Africa's Scientology Volunteer Ministers continue to serve Mandela's beloved country. Mandela Day commemorates the birthday of Nelson Mandela "in recognition of the former South African President's contribution to the culture of peace and freedom."
eNewsChannels NEWS: -- The Burbank Widening Citizens Group. ("BWC Group") announced today that it is organizing in opposition to the Burbank Blvd. Street Widening Project. The Group consists of businesses and residences situated along the affected Burbank Blvd., between Lankershim Blvd. and Cleon St.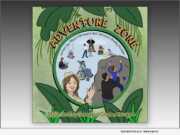 eNewsChannels NEWS: -- Authors Allison Klimowicz and Veronica Stanley-Hooper have written a children's book entitled "Adventure Zone" (ISBN: 979-8524737199). This book, written for parents and children from the ages of 6 to 12 years old, explains pediatric therapies in a fun, informative way.
eNewsChannels NEWS: -- For UN World Youth Skills Day, celebrated July 15, the Church of Scientology International provides skills training resources for mentors, nonprofits and community programs to help youth improve their ability to learn new skills and survive in today's competitive and challenging world. These are available free of charge on the Scientology website at Scientology.org/courses.
eNewsChannels NEWS: -- he Sacramento SPCA announced today that they received a $15,000 grant investment from Petco Love, to support their lifesaving work for animals through the newly constructed Zoe K. McCrea Animal Health Center. A check presentation was held at the Petco retail store located at 855 E Bidwell Street in Folsom, California on Friday, July 9 at 11 a.m.
eNewsChannels NEWS: -- he Federal government's recently proposed infrastructure program is projected to create nearly 3 million new commercial truck driving jobs. That's why platforms such as TruckDriverJobs411.com, the original and free trucking jobs' board, are hustling to meet the growing employment demands. Western Truck Insurance Services, Inc. has recently overhauled its job board site to ensure drivers and owner operators are efficiently matched with jobs.