eNewsChannels NEWS: -- EnergyCAP, a leading provider of energy and sustainability enterprise resource planning (ERP) software, today announced the launch of CarbonHub, a new solution that offers financial-grade carbon accounting and sustainability reporting.
eNewsChannels NEWS: -- Jonathan Grammer, CEO of U.S. Carbon Capture, will present on the issue of Carbon Capture and Storage to Texas land and mineral rights owners November the 18th in Austin, Texas. The presentation will be part of the 7th Annual Land and Mineral Owner's Symposium hosted by Austin law firm Graves, Dougherty, Hearon & Moody.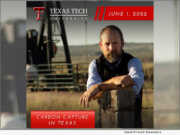 eNewsChannels NEWS: -- U.S. Carbon Capture announces that Director of Land Jonathan R. Grammer will speak on the campus of Texas Tech University June 1 on the growing business of Carbon Capture in the State of Texas. The engagement, part of a larger convention addressing the state's energy grid, comes just months after Exxon Mobil announced its estimates of a foreseeable $4.5 trillion market for carbon capture and storage by 2050 as companies race to achieve net-zero.
eNewsChannels NEWS: -- National nonprofit Synergy for Ecological Solutions officially launches on the first day of Spring, March 20th. SYNERGY is a 501(c)(3) nonprofit dedicated to serving our environment through a one-of-a-kind program of climate wellness through soil health and other ecological synergies.