eNewsChannels NEWS: -- Scientists are pursuing novel strategy to understand the source of inflammation in chronic diseases at the molecular level. Dr. Marcelo Freire at The J. Craig Venter Institute, is among the scientists conducting this provocative research and he's the lead and senior author of a recent study, 'Transcriptomics of type 2 diabetic and healthy human neutrophils.'
eNewsChannels NEWS: -- Marci Kenon, founder of New York-based Preventive Lifestyle Assistance Network (PLAN) has joined in a collaborative effort with Francheasca Roberson, executive director of California-based nonprofit The Eight, Inc., to break the chains that type 2 diabetes has on members of underserved communities around the country. Brooklyn Borough President Eric Adams also joins as an ally in the effort.
eNewsChannels NEWS: -- When the pandemic hit, certified lifestyle coach Marci Kenon was knee deep in serving her Harlem community, specifically targeting the marginalized and underserved sectors. As the founder of Preventive Lifestyle Assistance Network (PLAN), her agency, launched last year, focuses exclusively on providing the National Diabetes Prevention Program (NDPP).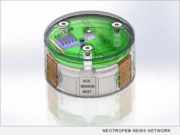 NEWS: (SAN DIEGO, Calif.) Better Life Technologies Group is pleased to announce that it has selected Fallbrook Engineering in Escondido, Calif. to work on the prototyping of its patent-pending, non-invasive wireless-wearable, Glucose Diagnostic Sensor (GDS), US Patent Pending # 14/933985. Non-invasive wireless wearable Glucose Diagnostic Sensor to provide unique solution for diabetes monitoring.