Home
Tags
Directories and Portals
Tag: Directories and Portals
NEW YORK, N.Y. /eNewsChannels/ -- NEWS: A new online directory - Rug Cleaning Companies (RugCleaningCompanies.com) - has assembled what it believes to be 'the best rug cleaning carpet services in New York.' Need someone to clean your drapes or high-end carpet? They've got you covered.
NEW YORK, N.Y. /eNewsChannels/ -- NEWS: Masterseek has just launched an enhanced version of its search engine which includes, amongst other things, additional search capabilities. The purpose of these modifications being to allow the user to find and sort business contacts more easily and efficiently, using specific criteria. The new version has the functionality to apply multiple search terms at the same time, ensuring accuracy in the returned results.
CALGARY, Alberta, Canada (SEND2PRESS NEWSWIRE) — Greatest Boom Ever (greatestboomever.com) has released an iPhone App of its popular real estate and investing information site. "This new iPhone App allows investors to check information contained on the website www.greatestboomever.com in the most accommodating fashion possible via their smartphone," comments Joe Iannuzzi, President and CEO. He adds, [...]
LOS ANGELES, Calif. /eNewsChannels/ -- Neotrope(R), a U.S.-based entertainment publishing company, today announced the re-launch of freeNewsArticles(TM), a quality content resource providing hundreds of current, ready-to-use free news articles in a wide variety of popular topics including business, entertainment and technology. After filling out a simple license agreement, editors may freely use the content in print, online, or on-air.
LOS ANGELES, Calif. /eNewsChannels/ -- When the idea of creating Virtual Hayastan (VirtualHayastan.com) was born to Grigor Manoyan, he immediately started working on creating something extraordinary for the Armenians all over the world.
SAN FRANCISCO, Calif. /eNewsChannels/ -- SmartStops, an online service that helps investors of all levels manage investment risk, announced today that the SmartStops BrokerLink service is now available for clients of online broker-dealer, TradeKing.
FARMINGTON, Utah /eNewsChannels/ -- GoDavis announces the launch of their new and improved website GoDavis.biz. This site, focused on Davis County, Utah, offers consumers a centralized place to search for and find local businesses and services. Additionally, consumers are able to read about local upcoming events, entertainment and even search classifieds.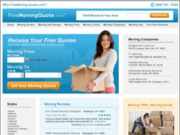 LOS ANGELES, Calif. /eNewsChannels/ -- The moving facilitator, Free Moving Quote (FreeMovingQuote.com), has not only weathered the recession, they have found ways to thrive in this difficult environment. FreeMovingQuote.com strives to be a one-stop shop for movers looking to find moving companies both at their departure locale and their destination.
LOS ANGELES, Calif. /eNewsChannels/ -- Searching movers has never been easy for customers who wish to relocate but do not have any information about moving companies. However, thanks to GotMovers.com things have become quite easy as it offers the most professional, appropriate information about moving companies that are operating locally and nationally.
CHICAGO, Ill. /eNewsChannels/ -- Blue City Chicago Apartments, Inc. has recently launched a re-designed website that offers Chicago apartment renters an easier and faster means to help them find their next apartment.