Home
Tags
Education and Schools
Tag: Education and Schools
eNewsChannels NEWS: -- Sherlock Holmes fans! Boston University writers created a new TV series based on Stephen King's "The Doctor's Case" short story. "Holmes Legacy: The Doctor's Cases" is a six-episode drama about an older Dr. John Watson, who uses his memories of Sherlock Holmes to foil a new Moriarty and protect present-day London. Experience the live staged reading by professional actors at WBUR's CitySpace from 12-3 p.m. on April 27-28, 2019.
eNewsChannels NEWS: -- Oak Hills Local School District, in partnership with Energy Optimizers, USA, will upgrade all interior lighting to LED systems for an expected savings of more than $32,000 annually.
eNewsChannels NEWS: -- The Founder and CEO of The LINK Scholarship, a 501(c)(3) Organization, has been a local Crystal Lake resident of 13 years. The LINK Scholarship is proud to announce that Monica Furlong, has recently been selected to compete in the 2019 Mrs. Illinois America Pageant. She currently holds the title of Mrs. Crystal Lake Illinois.
eNewsChannels NEWS: -- The Justice League of Food will welcome supporters, partners, community leaders, and the general public to a Grand Opening & Ribbon Cutting Celebration. Guests will include Governor Kim Reynolds.
eNewsChannels NEWS: -- LOS ANGELES, Calif., April 3, 2019 (SEND2PRESS NEWSWIRE) -- On March 14, 2019 the National Residency Match Program (NRMP) released the list of applicants that applied for a Post Graduate Training slot also known as a medical "Residency." There were just over 44,600 applicants that applied for 35,000 residency positions nationwide, says Residents Medical.
eNewsChannels NEWS: -- Casita Maria Center For Arts & Education is proud to present Bambula/Re-remember, our 2nd Annual Young Artist Showcase! This multidisciplinary exhibition will include art created by participants in Casita Maria's after-school arts education program during the 2018 - 2019 academic year.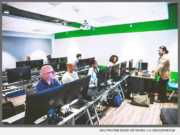 eNewsChannels NEWS: -- Learning technology skills requires technology. That's why Byte Back and Sorcero recently started teaming up to integrate AI software that makes learning and retaining information easier in the tech classroom.
eNewsChannels NEWS: -- Clay County District Schools has selected Edupoint(R) Educational Systems to implement its industry-leading Synergy Education Platform for K-12 student information and learning management. The district's cloud-hosted Synergy solution will include Synergy Student Information System, Synergy Learning Management System with RTI/MTSS and Assessment.
eNewsChannels NEWS: -- Bottega is giving back in a big way to the community that has allowed it to experience tremendous growth. "We've already given more than $5 million of educational programs to high school students and teachers, and have plans to give another $5 million this summer.
eNewsChannels NEWS: -- The private, nonprofit City University of Seattle is demonstrating its support for students impacted by the recently announced closure of Art Institute campuses. To assist students seeking options to continue their education, City University of Seattle is offering a 25 percent tuition scholarship to students transferring from any AI campus.