Home
Tags
Education and Schools
Tag: Education and Schools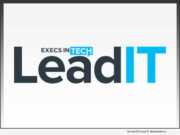 eNewsChannels NEWS: -- Execs in Tech announced they will begin enrollment in their LeadIT program at their Houston chapter monthly member meetup luncheon. The LeadIT program is a self-paced, mentor lead, curriculm of "on-the-job" projects that IT professionals complete to help them be better in the job that they are in, while preparing for the job that they want.
eNewsChannels NEWS: -- Galileo Learning, one of America's largest and fastest growing summer day camp providers, announced today that its Founder and CEO, Glen Tripp, is one of 25 individuals who will join the Pahara community of leaders this Fall. This highly dynamic and influential cohort is designed to support and challenge diverse, innovative leaders who are reimagining America's public schools.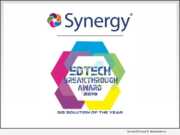 eNewsChannels NEWS: -- Edupoint(R) Educational Systems, creator of the industry-leading Synergy(R) Education Platform for K-12 student information and learning management, has won the 2019 EdTech Breakthrough Awards "Student Information System Solution of the Year" for its Synergy Student Information System (SIS).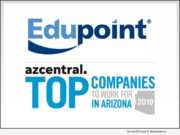 eNewsChannels NEWS: -- Edupoint Educational Systems, an industry leader in K-12 student information and learning management, has once again earned a spot among the 2019 azcentral.com(R) Top Companies to Work for In Arizona. The 2019 list marks the fourth time Edupoint has been recognized.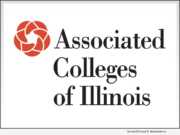 eNewsChannels NEWS: -- At least 23,000 alumni of Illinois independent colleges and universities are working for 145 top employers throughout the state, according to findings from a three-month research project conducted by Associated Colleges of Illinois (ACI). ACI is a Chicago-based nonprofit that serves 27 independent higher education institutions.
eNewsChannels NEWS: -- The Utica Education Association, the second largest teachers union in Michigan and its 1,400 educators, has launched a dynamic new website at UEAeducation.com which will become a clearing house for parent and community information.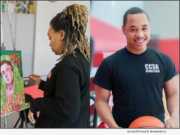 eNewsChannels NEWS: -- Chester Charter Scholars Academy (CCSA) to Graduate 100% of First-Ever Senior Class, June 10, 2019, 1 p.m., Lang Performing Arts Center, Swarthmore College (by invitation only). CCSA is an arts-integrated, academically rigorous, non-profit public charter school.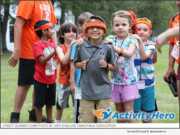 eNewsChannels NEWS: -- or the first time, families who struggle to make ends meet can apply for multiple summer camp scholarships with ActivityHero's simple online registration. Over 1,000 scholarships are available at 50 summer camps for as little as $20.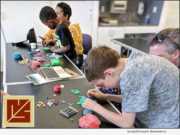 eNewsChannels NEWS: -- Nayah Solutions, Inc., an educational training company, announces the launch of Nayah STEAM for Kids, a free calendar that lists science, technology, engineering, art, and mathematics (STEAM) events in the San Francisco Bay area.
eNewsChannels NEWS: -- Casita Maria Center For Arts & Education, and Council Member Rafael Salamanca, Jr., are proud to present the South Bronx Culture Trail Festival 2019: retroACTIVO. The festival will last from May 24 to June 29, and will include multiple family-friendly events throughout the South Bronx, presented in partnership with community-based organizations, art institutions, health providers, and city agencies.