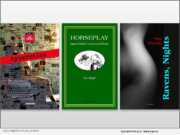 eNewsChannels NEWS: -- Deuxmers Publishing announces the release of two new novels by Lee Siegel, "Typerotica" and "Horseplay"; and a long-awaited collection of new poems by Peter Shaindlin, titled "Ravens, Nights."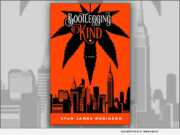 eNewsChannels NEWS: -- "Bootlegging Kind: An Indoor Story," a work of literature tapped acutely into the exploding marijuana subculture, is receiving rejection when attempting to actively promote itself on a variety of social media channels, according to the author, Ryan James Robinson.
NEWS: (LOS ANGELES, Calif.) Author-filmmaker-musician John Scott G is creating the world's first omnibus novel. Interweaving nine novels, dozens of short stories, numerous comedy routines, and a great deal of political satire, 'Area Code 666' is being serialized on Ga-Ga.com, the new online magazine of the arts (in BETA).
eNewsChannels BOOK SERIAL: "Secret Sex, A Book Alive Online," written and lived by John Scott G: Chapter 46 - "Wording for a Living." If you...