eNewsChannels NEWS: -- Award-winning Toastmaster Jeff Rector, of Toastmasters International District 52, invites film industry professionals and film enthusiasts to secure their VIP All-Access Passes to the Festival Screenings, Red Carpet Events, Parties and Closing Night Dinner & Gala Awards Show. The Burbank International Film Festival (BIFF) is proud to celebrate its 13th anniversary in the "Media Capital of the World."
eNewsChannels NEWS: -- LanDan Consulting announces Oberon Theatre Ensemble's "Smartphone Shorts" (Brad Fryman, Artistic Director). An evening featuring short films created during Oberon's Smartphone Workshops. The films were shot exclusively on smartphones as the ensemble negotiated its way through the pandemic.
eNewsChannels NEWS: -- On February 14 the Richmond Environmental Film Contest Committee will virtually award the winners of the Environmental Film Contest and screen each film. The contest was open to novice and experienced Virginia filmmakers submitting films on environmental topics regarding Virginia.
eNewsChannels NEWS: -- The RVA Environmental Film Festival (RVA EFF) announces its 11th annual showcase of over 20 free local and national films. Many films are hosted by like-minded organizations. Two films are of particular interest to youth: "Microplastic Madness" and "Frozen Obsession."
eNewsChannels NEWS: -- The 17th edition of CortoCircuito New York and the 6th edition of Cali open their virtual screening room CortoCircuito: Home Edition November 10-13, 2020, presenting award-winning short films from international festivals and continuing its mission of promoting emerging talent from the regions it represents.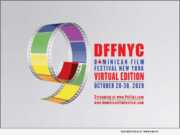 eNewsChannels NEWS: -- The importance of maintaining healthy social distancing and stopping the spread of COVID-19, Dominican Film Festival in New York City (DFFNYC) will hold its ninth edition online, October 20-30, 2020. These challenging circumstances have not prevented the festival from continuing to be the largest and most impressive film festival outside the borders of the Dominican Republic.
eNewsChannels NEWS: -- In light of the unprecedented events of 2020, PRINDIE: Princeton Independent Film Festival will hold its first all-virtual film festival, open this year to all film-lovers in United States. Running from Thursday, Sept. 10 through Sunday, the 13th, the festival features 37 short films. This year's film lineup focuses on issues surrounding immigration, mental health, youth, and cultural diversity / Black Lives Matter.
eNewsChannels NEWS: -- The Marina del Rey Film Festival will hold a public screening of the new Broad Street Studios documentary short film, "Camp Kennebec: The History" on Tuesday, October 22 at 12 p.m. at the Cinemark 18 Howard Hughes Center, Los Angeles. Tickets are available through the Festival's website.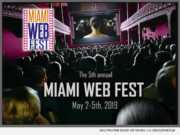 eNewsChannels NEWS: -- The 5th season of the Miami Web Fest and the Veteran Film Awards takes place May 2-5, 2019 at the Fillmore Miami Beach. The first of its kind in the state of Florida, this event showcases the best digital series from over 30 countries and also highlights the work of veterans.