Home
Tags
Food and Beverages
Tag: Food and Beverages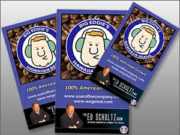 PLANTATION, Fla., /eNewsChannels/ -- Buying American is a trend that is here to stay and USA Coffee Company stands behind the sentiment one hundred percent. All of its coffee is 100 percent Hawaiian-grown and now it's excited to offer a new custom label program: Our coffee, your custom labels.
IPSWICH, Mass. /eNewsChannels/ -- The Traveling Vineyard, which offers home-based business opportunities for local wine tastings, has unveiled a new Food and Wine Pairings section of their website complete with detailed explanations for why certain dishes marry with particular Traveling Vineyard wines and links to cooking instructions.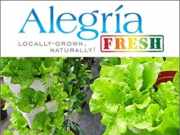 LAGUNA BEACH, Calif. /eNewsChannels/ -- Alegria Farm announces that Yolande Smith, a holistic healer, natural foods chef and nutrition expert has joined the Alegria Fresh team. Smith's focus is to show people how to rid themselves of chronic diseases such as diabetes, cancer, obesity and heart disease by better understanding how food can heal and assist those who wish to feel better.
HUNTINGDON VALLEY, Pa. /eNewsChannels/ -- Multi-Flow Industries, a fountain-beverage manufacturer and distributor for over 75 years, recently introduced one of its best-selling brands - Re-Fuel(TM) - in a 16-ounce can. This product launch represents the premier introduction of a ready-to-drink beverage from the company that helped to revolutionize energy drinks available for nightclubs and bars in a bag-in-box package.
HUNTINGDON VALLEY, Pa. /eNewsChannels/ -- Multi-Flow Industries, proudly announced its prestigious 2012 Silliker 3rd Party Food Safety Audit, which landed the manufacturer of fountain-dispensed beverages a score of 98.4 percent. The audit covered Food Safety as well as GMP requirements.
MILWAUKEE, Wis. /eNewsChannels/ -- In celebration of winter and the festive winter holidays, Big Bay Brewing Co. has introduced its newest craft beer, Portside. The porter style beer is the third limited edition brew to be introduced by the Shorewood, Wisconsin-based craft brewer.
PARIS, France /eNewsChannels/ -- Tendil & Lombardi announce their new range of true Champagnes to hit shelves in the U.S. for the 2012 holiday season. Tendil & Lombardi Champagne is the project of Laurent Tendil and Stephane Lombardi, childhood friends from Lyon, France. Champagne lovers from early on, Tendil et Lombardi both left top management positions in multi-national companies when they made the leap towards what had been a dream for years, creating their own Champagne.
CARMEL VALLEY, Calif. /eNewsChannels/ -- The Quail and Olive celebrated its grand opening with nearly 250 new friends last Saturday at 3 Pilot Road, Carmel Valley, CA 93924. The olive oil fustis had to be refilled as customers walked out with California-grown varieties of extra virgin olive oil, balsamic vinegars, olives and other fine gourmet gifts.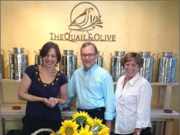 CARMEL VALLEY, Calif. /eNewsChannels/ -- The Quail & Olive will host a grand opening event from 2 to 6 p.m. on Saturday, October 13 at 3 Pilot Road, Carmel Valley, CA 93924. The event will feature olive oil and balsamic vinegar tastings, skin health product demonstrations and local a capella act, The Valley Boys. Gourmet food catered by Paradise Catering and local wines as well as non-alcoholic beverages will be served. This is a no-cost celebration open to the community.
MONTEREY, Calif. /eNewsChannels/ -- Lost Spirits Distillery - a tiny California distillery manned by just its two founders - announces the unveiling of their dedicated single malt distillery. The project, which has been under wraps for some years, is an American mom and pop distillery unlike any other. And their first release - Leviathan I - is peated to a staggering 110ppm. Attaining phenol levels only accomplished by two distilleries in the past.