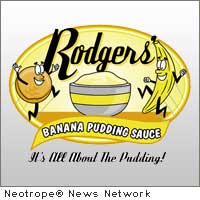 CHESAPEAKE, Va. /eNewsChannels/ — Chase's Calendar of Events, 2011 Edition has designated the month of November as "Banana Pudding Lovers Month." Created by the Rodgers family of Rodgers' Banana Pudding Sauce, "Banana Pudding Lovers Month" is a time for families during the start of the holiday season to re-create the memories of their happy childhood or start creating memories for their own children.
The patriarch of the Rodgers' family, Reggie, a 26-year disabled Navy veteran, said, "I have many sweet memories of my family sitting down together eating their banana pudding dessert. This is why I believe it is important to pass the tradition from one generation to another."
Because of Gin-Gin, the youngest daughter, suggestion to market her father's recipe of banana pudding sauce that he received from his mother, Polly, the Rodgers family is now sharing their tradition. Their all natural ingredients – low fat, low sodium, and no trans fat – banana pudding sauce is sold in some Kroger stores, commissaries, and farm markets. Sold in 16 and 32 ounce jars to the retail market and the gallon size to food service, another attribute of their banana pudding sauce also includes ease of use.
A banana pudding dessert can be made within minutes. Shake really well before opening, open jar and stir, pour Rodgers' Banana Pudding Sauce over your wafers, bananas, and spread; now eat and enjoy!
Other dishes that Rodgers' Banana Pudding Sauce can be used to make include banana pancakes, banana pudding milkshakes, banana strawberry smoothies, bread pudding, fruit dip, crepes, and blueberry cream tarts. Additionally, Rodgers' Banana Pudding Sauce can be used to make pudding shots with coconut rum and a Marble Meltdown with Pinnacle Whipped Cream Vodka. Rodgers' Banana Pudding Sauce is one product with seemly endless possibilities.
Learn more at: http://www.rodgersbananapudding.com .



Copyright © 2011 Neotrope® News Network – all rights reserved.