Home
Tags
Native American Interests
Tag: Native American Interests
eNewsChannels NEWS: -- Sugarpeel announces newest Deliberately Considerate™ digital publication recognizing people trying to change the world for the better, featuring Native American Oren Lyons, Faithkeeper of the Onondaga Nation and international advocate for our Mother Earth, and Indigenous rights.
eNewsChannels NEWS: -- For historical film documentarian and author Sufia Giza, genetic testing took her down a rabbit hole of research that has spanned 30 years, uncovering intriguing evidence that not only affects her personally, but also deeply impacts the narrative of this nation as a whole. Her new book is HeTePu Publications' "Moundbuilders of Ancient America: A Legacy Reclaimed," self-published in conjunction with the notable Black Classic Press.
WASHINGTON, D.C. /eNewsChannels/ -- Over 175 youth members of the Young Marines from throughout the country will be attending the 30th anniversary of the National Navajo Code Talker Day in Window Rock, Arizona on August 14.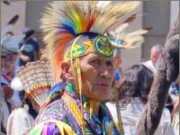 FARMINGTON, N.M. /eNewsChannels/ -- Each Labor Day Weekend Native American craftsmen meet near the confluence of the Animas, La Plata and San Juan Rivers in Farmington, N.M. for the Totah Festival. 'We gather for friendship,' says George Francis, Totah Festival Foundation Board President, 'and we come to sell arts and crafts before the winter comes to the Four Corners.'
PUERTO VALLARTA, Mexico /eNewsChannels/ -- 'This New Year's Dawn, 7-8 a.m., Jan. 1, 2011, Mexico's renowned Aztecas, Mayans and Huichols, on behalf of the United Nations, will dance humanity back into our ancient earth-honoring way of being in 2011, at Puerto Vallarta's Los Muertos Pier,' said Olympic skier Suzy 'Chapstick Chaffee, co-chair of Native American Olympic Team Foundation (NAOTF).
VAIL, Colo. /eNewsChannels/ -- On Dec. 4, 2010, renowned Southern Ute/Navajo Elders, Eddie and Betty Box Jr. and their dancer/skiers launched UN's International Mother Earth Day Ceremonies to open Vail's Super G at Beaver Creek, and were blessed with a beautiful day so the races could resume, Native American Olympic Team Foundation announced.