eNewsChannels NEWS: -- Thirteen years ago, Nina G made her debut as the first stuttering female comedian. Since then, she's challenged the status quo of how people who stutter are perceived - onstage and off. So, in an industry that lacks speech diversity, Nina G's unique voice will record both her first solo comedy album and comedy special on March 9, 2023 at the Alameda Comedy Club located in her hometown. The album is projected to come out later in the spring on the Punchline Records label with the comedy special to follow.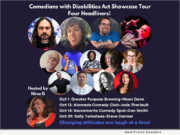 eNewsChannels NEWS: -- The producers and contributors of the Comedians with Disabilities Act are pleased to announce the upcoming tour of its wildly popular show in October 2022. The comedy troupe is the brainchild of the late comedian Michael O'Connell, who started the group in 2010, and was later joined by Steve Danner and Nina G not long after.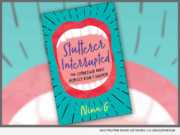 eNewsChannels NEWS: -- Stuttering Comedian, Nina G. announces the release of her second book: "Stutterer Interrupted: The Comedian Who Almost Didn't Happen" (ISBN: 978-1631526428; August 6, 2019). While childhood angst and everyday incidents offer fodder for her stand-up comedy on stage, Nina G. peels aside the punchlines to share her very personal story in her new book.
eNewsChannels NEWS: -- Stuttering stand-up comic Nina G will have the top spot at the Invisible Disabilities Comedy Show at the Sacramento Punch Line on Sunday, January 27 2019! Author of the forthcoming book "Stutterer Interrupted: The Comedian Who Almost Didn't Happen," Nina's comedy is funny, revealing, unapologetic, and always a window to her experience as a person who stutters. Through humor, Nina G is challenging now people think of stuttering.
eNewsChannels NEWS: -- What do you do when you are professionally funny for a living AND use your own experience as a person with disabilities to crush stigma and change attitudes? Well, for stuttering comedian Nina G, you take it on the road in a series of presentations that are both funny and profound.
eNewsChannels NEWS: -- As part of the 35th annual National Stuttering Association conference, a group of talented comedians will stand up for stuttering in "NSA Laughs!" Headlining the show is Nina G, an 8-year, stand-up comedy veteran and professional speaker. This stand-up comedy show is open to the public and is scheduled for July 5 at the Sheraton Grand Chicago.
ALAMEDA, Calif. /eNewsChannels/ -- NEWS: Nina G bills herself as 'America's Only Female Stuttering Comedian.' Less obvious about this stand-up comedian, social activist, and author, is that she also has a learning disability. Both Nina G's stutter and her learning disability are subjects in her new one woman show, 'Going Beyond Inspirational,' which premieres on (funnily enough) April Fools' Day! April 1, 2015 at the Pacific Pinball Museum in Alameda, Calif.