Home
Tags
NonProfit and Charities
Tag: NonProfit and Charities
eNewsChannels NEWS: -- Guardian Angels Medical Service Dogs, Inc. a national 501(c)(3) non-profit, located in Williston, Fla., and the Community Foundation for Ocala Marion County are proud to announce, and extend our heartfelt thanks and appreciation to Al and Judith Dunlap for their incredibly generous gift of $350,000 to support the work of training medical service dogs for Veterans and First Responders.
eNewsChannels NEWS: -- Jay Newman, founder and executive director of Champions for Humanity, founded this 501(c)(3) charitable organization to bring a leading-edge embodiment of ionic silver - Opti-Silver - to millions of people who need safe drinking water and are suffering needlessly from infectious disease. He simply wants to do some good in the world.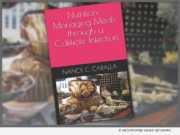 eNewsChannels NEWS: -- The C Diff Foundation announces a new nutritional guide, "Nutrition; Managing Meals through a C. difficile Infection" (ISBN: 978-1973304241) authored by Nancy C. Caralla, C Diff Foundation's Foundress, Executive Director and three time C. difficile Infection Survivor and co-author Karen F. Factor, MBA, RDN,CSR, LDN, C Diff Foundation Registered Dietitian during November 2017 Clostridium difficile Infection Awareness Month.
eNewsChannels NEWS: -- America's Real Life Urban Super Hero, DangerMan, will once again honor the heroics of local community activists at the 2nd Annual 2017 DangerMan Hero Awards Show, to be held the evening of Saturday, December 9 at the California African American Museum (CAAM). The highly anticipated event will begin at 6 p.m. with a red carpet and VIP reception, produced by actor, mentor and philanthropist Roger I. Tinsley.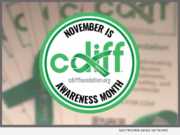 eNewsChannels NEWS: -- Many U.S. Governors have signed a state proclamation proclaiming November 2017 as Clostridium difficile (C.difficile, C.diff.) Infection Awareness Month, the non-profit C Diff Foundation announced today.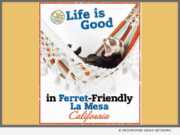 eNewsChannels NEWS: -- Mayor Mark Arapostathis and all members of the La Mesa City Council issued a proclamation on November 9 urging the California State Legislature to pass ferret legalization legislation, non-profit Legalize Ferrets announced today.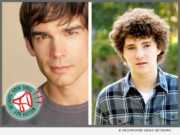 eNewsChannels NEWS: -- Geek Club Books for Autism today announced that actors Christopher Gorham and Julian Feder, lead characters in the award-winning indie film, "A Boy Called Po" joined the #Activate4Autism movement, a public awareness campaign as a part of National Bullying Prevention Month. People on the autism spectrum are often misunderstood, marginalized, undervalued and 3 times more likely to be victims of bullying.
eNewsChannels NEWS: -- The National Association for Search and Rescue (NASAR) has named MAGLITE(R) the official flashlight brand of search and rescue. Engineered and built in the U.S., and supported by expert service at the factory, MAGLITE, was selected due to its reputation for outstanding performance and durability among other features essential to a flashlight for search and rescue purposes.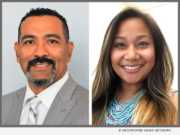 eNewsChannels NEWS: -- The Coalition for Responsible Community Development (CRCD), a South LA based non-profit serving the community through youth, workforce and economic development initiatives, is proud to announce the addition of two members to their executive leadership team, Chief Operating Officer Angela LoBue and Chief Real Estate and Economic Development Officer Alejandro Martinez. The increase in senior staff will allow CRCD to develop new programs and initiatives while expanding their footprint.
eNewsChannels NEWS: -- Halloween night just got safer! America's Real Life Urban Super Hero, DangerMan, will roam the streets trick-or-treating with the likes of Superman, Batman and Spider-Man as the new DangerMan Super Suit is now available for kids! Actor and mentor Roger I. Tinsley, the founder of the DangerMan Urban Superhero brand and CEO/President of the DangerMan Education Foundation, Inc., a non-profit 501(c)(3) organization, has released the new costume just in time for the holidays.