Home
Tags
NonProfit and Charities
Tag: NonProfit and Charities
eNewsChannels NEWS: -- Casita Maria Center for Arts & Education is proud to present College & Career Expo: Dream It & Be It! The College & Career Expo offers students a chance to learn about higher education and careers they might be interested in.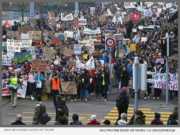 eNewsChannels NEWS: -- Nonprofit JaneUnChained News Network announced today that New York environmental activists will converge on Brazil's Consulate in Manhattan on Valentine's Day, Thursday, February 14! The group plans to march several blocks from the Brazilian Consulate to the United Nations to demand Brazil's new President be prevented from selling off the Amazon to the highest bidder.
eNewsChannels NEWS: -- Casita Maria Center for Arts & Education, in partnership with Pregones Theater, is proud to present "We Have Ire," a free excerpt performance of the multi-disciplinary theater project, on March 9, 2019, 2 - 2:45 p.m. The performance combines spoken word and theater produced by Cuban-American writer, performer, Doris Duke; Artist and San Francisco resident Paul S. Flores.
eNewsChannels NEWS: -- Please join in a historical first! The nonprofit, Mira Alto Foundation will be celebrating this amazing week. This marks the first time an LGBTQ+ focused organization has shed light on the epidemic of eating disorders within their community.
eNewsChannels NEWS: -- The Board of Directors of Caminar has announced the appointment of Mark Cloutier, MPP, MPH, as Chief Executive Officer of the $39M nonprofit behavioral health organization. Dedicated to empowering and supporting individuals and families with complex needs to move toward resilience, wellness and independence, Caminar serves more than 20,000 people each year in the San Francisco Bay Area and Northern California.
eNewsChannels NEWS: -- Outvisible Theatre Company presents David Ives' award-winning "Venus in Fur" - running February 14 through March 3, 2019. "Venus" is a modern take on Leopold von Sacher-Masoch's "Venus in Furs," an 1870 novella which draws on themes of female dominance.
eNewsChannels NEWS: -- This year (2019) marks the 50th anniversary of the founding of the Clarke County Development Corporation (CCDC). In August of 1969, the development corporation that has brought Osceola and Clarke County, Iowa numerous business and economic successes.
eNewsChannels NEWS: -- The C. Diff Foundation Board of Directors announced today that the 2019 "Above and Beyond" Award will be presented to Rebiotix CEO Lee Jones in Roseville, Minnesota. The award, given to one recipient annually, is given to a person or organization that show extraordinary dedication to C. diff patient safety, advocacy, and overall drive to improve the lives of those impacted by the infection.
eNewsChannels NEWS: -- The Senior Artists' Art Exhibit - Collection from the Treasure Chest, held by H.H. Dorje Chang Buddha III Cultural and Art Museum, had its Grand Opening at the museum on January 26, 2019. Senior painting artists from both the main-stream and Chinese societies in many cities, turned their rich live experiences into color brushes, and they sketched, outlined and drew their ideologies and expectations about mankind and the world into wonderful paintings, painting the splendid world in their eyes and showed the richness and colorfulness of the spiritual lives of theirs.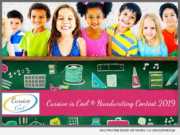 eNewsChannels NEWS: -- The annual Cursive is Cool(R) contests for 2019, under the auspices of the American Handwriting Analysis Foundation, will launch on National Handwriting Day, celebrated around the world on Jan. 23 each year. Cursive writing continues to enjoy increased appreciation in the United States and around the world. Scientific studies reveal the benefits of writing by hand to positively impact motor skills, cognitive development and improved learning outcomes such as better recall and retention for young learners.