Home
Tags
Online travel agency
Tag: online travel agency
TAMPA, Fla. /eNewsChannels/ -- J.S. Cruiseline, Inc., 'the new world of travel,' has been struggling to keep up in an economy that is under attack. However, a recent influx of cash may be just what the company needs to attract and retain new customers.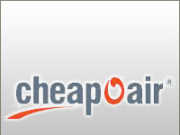 NEW YORK, N.Y. /eNewsChannels/ -- CheapOair, a top 10 online travel booking site, announces the launch of its first ever television campaign today. The 30-second ads feature the tag-line 'Get There for Less,' an expression of the company's commitment and brand promise to put quality and value first for smart shoppers who continue to demand the best of both.
NEW YORK, N.Y. /eNewsChannels/ -- CheapOair is the proud recipient of three of Travel Weekly's esteemed 2010 Magellan Awards. CheapOair was honored with a Gold Award in the Promotional Videos category and Silver Awards in the Booking Interface and TV Campaign categories. The Travel Weekly Magellan Awards recognize the best in the travel industry.
NEW YORK, N.Y. -- CheapOair, a top ten online travel agency in North America, won the prestigious LinkShare 2010 Golden Link Publisher's Choice Award and received an Innovative Advertiser of the Year nomination. These accolades are awarded to affiliate programs that push for the implementation of new technology, promote revenue-producing campaigns, utilize unique initiatives that have facilitated new partnerships, increased sales and delivered great ROI.
NEW YORK, N.Y. -- CheapOair, a top ten rated online travel agency, is pleased to announce that several of their airline partners now offer in-flight Wi-Fi, and the Apple iPad. Today's traveler is Web savvy; often booking cheap flights online, and utilizing travel gadgets, iPhones and Blackberrys.
TAMPA, Fla. -- Webjet Ltd., Australia's largest and most successful online travel agency, is excited to announce the launch of its U.S. affiliate. Operating as a fully independent online travel agency, Webjet.com is committed to help U.S. customers search through millions of airfare and flight combinations to find the best deal for international itineraries.
NEW YORK, N.Y. -- CheapOair, a top ten rated online travel agency, provides affordable flights for travelers looking to get away this spring and summer. Despite industry news of increasing fares through the summer, travelers can find flights under $199 to popular destinations at CheapOair.