eNewsChannels NEWS: -- Nola Bulls, LLC and its revelers GET LUCKY for the 13th edition of New Orleans' favorite summer bash known as San Fermin in Nueva Orleans (SFNO) presented by The Advocate, aka The Running of the Bulls in New Orleans. A legendary local band reunites for a rare return to ROCK.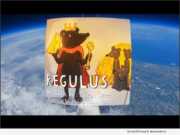 eNewsChannels NEWS: -- Space is an uncharted frontier equipped with mysteries beyond our understanding of what is or will ever be possible. Aaron Ozee, bestselling author of notable children's book, "Regulus" (ISBN: 9781387010790), has partnered with Orbit Pics to launch a printed copy of his book into space. (VIDEO)
eNewsChannels NEWS: -- The Dominican born actress Liz Thomas, is the first woman to write and star in a Sketch Show inspired by the First Lady Melania Trump. The Show is called "Melania: The Cyberwoman." The Show is directed by Kim Parker. Other cast members are Seneca Lawrence and Zack Gafin.
eNewsChannels NEWS: -- Otherworld Encounter will bring their 10,000 square foot immersive art experience back to the Nashville Fairgrounds for a limited engagement July 5-21, 2019. A team of 13 Nashville-based artists designed, developed and operated the exhibit for its debut this past winter.
eNewsChannels NEWS: -- Author Paul Orwell's new book "Total Sh*t Donald Trump" (ISBN: 978-1733807302; ppb; Oceania Press) released today on Amazon, Barnes & Noble, Apple and many other platforms, makes the case that the president is, in a sense, "the physical embodiment of our nation's collective excrement" and that "we citizens have a duty to flush it, not just shovel it."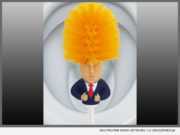 eNewsChannels NEWS: -- Michelle Rubel, owner of SpacedOutDesigns and the inventor and creator of Commander in Crap(TM), is helping make toilets great again(TM) with her viral invention, a Donald Trump toilet brush that American and international customers are gladly grabbing to clean up their crap.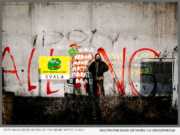 eNewsChannels NEWS: -- American artist XVALA will open his MEME PARTY campaign with an extreme modification of Banksy's mural painting of Steve Jobs in Calais, France, known as "The Son of a Migrant from Syria". XVALA will unveil his work at an event on April 27, 2019 in the Bowery. All pieces in the campaign make use of a variety of politically-charged and often controversial memes.
eNewsChannels NEWS: -- Stuttering stand-up comic Nina G will have the top spot at the Invisible Disabilities Comedy Show at the Sacramento Punch Line on Sunday, January 27 2019! Author of the forthcoming book "Stutterer Interrupted: The Comedian Who Almost Didn't Happen," Nina's comedy is funny, revealing, unapologetic, and always a window to her experience as a person who stutters. Through humor, Nina G is challenging now people think of stuttering.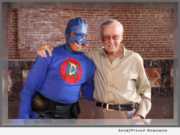 eNewsChannels NEWS: -- An evening of celebration will mark the 20th anniversary for DangerMan, America's Real Life Urban Super Hero at the Third Annual 2018 DangerMan Hero Awards, taking place on Saturday, December 8 at the California African American Museum (CAAM). During the affair, DangerMan will pay homage to his friend and recently departed mentor, comic book legend, Stan Lee.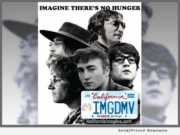 eNewsChannels NEWS: -- October 9 would have marked the 78th birthday of John Lennon, and his legacy is still helping to "Imagine there's no hunger," in California, Florida and throughout the U.S. Yoko Ono Lennon has kindly authorized the use of the iconic self-portrait image to help the California Association of Food Banks and Feeding Florida in their ongoing fight to end hunger.