Home
Tags
Private Practice and Medical Groups
Tag: Private Practice and Medical Groups
eNewsChannels NEWS: -- A custom Glam-Squad for Injectables, Skin and Body Care. Specializing in non-surgical treatments, exclusive CBD facials, and an IV Drip lounge for total body results. Because every face is different, EevolveSelf focuses on individual solutions that prevent signs of aging, enhance and restore your natural beauty.
eNewsChannels NEWS: -- Rita Medical Elite is pleased to announce that it will hold a celebratory Holiday Event showcasing its newly completed medical spa with an expanded menu of aesthetic services on Thursday, December 5, 2019 from 5 p.m. to 8 p.m. Due to limited space, those wanting to enjoy the festivities must call in advance to place their name on the guest list.
eNewsChannels NEWS: -- The outpatient Audiology Clinic at The Learning Center for the Deaf has achieved two significant milestones, increasing access to their comprehensive audiological and hearing aid services for children and adults. The Audiology Clinic has been credentialed as a MassHealth provider, and is now serving members of the community-students, staff, families and MetroWest residents-who have cochlear implants.
eNewsChannels NEWS: -- GhentMD, a new medical practice integrating innovative health and wellness services invites the public for a Grand Opening Celebration on Thursday, November 7, 2019. The Grand Opening will include a Ribbon Cutting Ceremony from 12: 45 p.m. to 1:30 p.m., and a Grand Opening Event from 4 p.m. to 7 p.m., at the clinic in Gilbert, Arizona.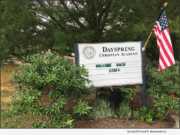 eNewsChannels NEWS: -- EHOP Health, a chronic disease reversal company headquartered in the Triangle region, recently implemented their Journey 2 Health(TM) program at Dayspring Christian Academy. Dayspring, which educates students from kindergarten through high school, wanted to offer additional support to their team.
eNewsChannels NEWS: -- Behavioral Innovations, a leading provider of center-based ABA therapy, today announced their newest center opening that will be located in Friendswood, Texas, a suburb of the Houston metro area. The growing need to provide access to early autism services is increasing as more children are being diagnosed with autism than ever before.
eNewsChannels NEWS: -- Over the last few decades, United States Drug Testing Laboratories, Inc. (USDTL), has been quietly making a huge impact on the lives of some of the most vulnerable Neonatal Intensive Care Unit (NICU) patients, newborns exposed to substances of abuse during gestation. Today USDTL announced that they are the first laboratory in the world to commercially offer newborn fentanyl testing in both meconium and umbilical cord tissue specimens.
eNewsChannels NEWS: -- Spine and Wellness Centers of America (SWCA), operator of innovative institutes devoted to optimal health and wellness, today announced expansion into Northern Palm Beach County. Local son Dr. Jeffrey R. Cara, DO, will serve as director of the firm's new Palm Beach Gardens-based institute.
eNewsChannels NEWS: -- Encounter Telehealth, along with a number of healthcare stakeholders, submitted a letter with comments on the Drug Enforcement Administration's (DEA) implementation of a Special Registration provision for telehealth under the Ryan Haight Act.
eNewsChannels NEWS: -- Surgery Center of Oklahoma now offers surgical procedure financing through their financing partner, MedPlan Credit of Tulsa. Patients now have the opportunity to apply for financing, using MedPlan's technology platform, through a link on SCOK's website or through a form on Medplan's website.