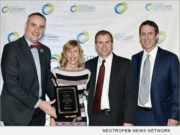 NEWS: On December 2, 2015, Proto Plastics was acknowledged by the Tipp City Chamber of Commerce as the 2015 Business of the Year at their annual Holiday Gala in Ohio. The awards program recognizes Tipp City-area companies and leaders who have proven themselves as leaders in the business community.
TIPP CITY, Ohio /eNewsChannels/ -- NEWS: The Conair ResinWorks(TM) systems offer a new level of manufacturing efficiency for plastic injection molding operations at Proto Plastics of Ohio. The drying system consolidates resin handling and pre-conditioning into a central area, allowing material changes to take place quickly, cleanly, and safely away from the processing machine.
TIPP CITY, Ohio /eNewsChannels/ -- NEWS: Proto Plastics of Tipp City today announced the roll-out of their new website. Proto Plastics partnered with Bash Foo, a digital marketing company also in Tipp City to build a new website that would better communicate their services, products and solutions.