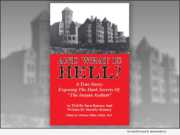 eNewsChannels NEWS: -- "And What is Hell - A True Story: Exposing The Dark Secrets Of 'The Insane Asylum'" was released today in its second printing (ISBN: 978-0989901765). This compelling true story is all about religious freedom and Christian faith.
eNewsChannels NEWS: -- Pyramid Press announced today the Release of the New Book: "Peter Drucker's System of Management in a Business Environment" (ISBN: 978-0996893558) by one of Peter Drucker's First Students, Luther Guynes, Ph.D.
eNewsChannels NEWS: -- Pyramid Press proudly announced today its latest book, "Coach Miller's Guide and Workbook To Life And Success" (ISBN: 978-0996893503) is available now at all bookstores and on Amazon. The book has an inspired and moving introduction by Virginia Tech Coach Buzz Williams and an amazing foreword by noted religious and political leader Rev. Misi Tagaloa, Ph.D., Head Pastor Second Samoan Church of Long Beach.
eNewsChannels NEWS: (LOS ANGELES, Calif.) -- Pyramid Press (pyramidpress.net) announces the release of their newest book, "The Adventures of Steamo The Wonder Crab" (ISBN: 978-0989901796) by well-known educator and former college professor Michael Miller, M.Ed., M.S. "Steamo" is illustrated by Jeffrey Vernon and art director Minhee Choe.